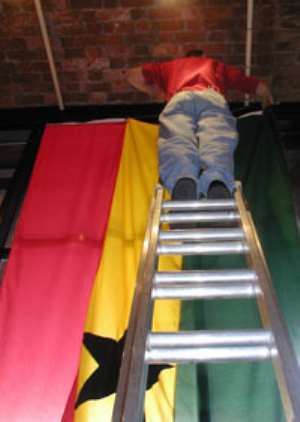 Who are we benchmarking against when it comes to education of our youths?
Is it not such a disgrace of our educational system, which read in the General New paper as "160,000 JSS graduates drop out of school"? The report goes on that, the fate of nearly 160,000 junior high school graduates who took part in the recent Basic Education Certificate Examination (BECE) have been thrown into jeopardy after they failed in the majority of the subjects they wrote to qualify them for placement into senior high school.
Thank goodness we have some one like Nana Akomea, Minister of Manpower, Youth and Employment, who pointed out that precarious situation to the poor structuring of the moribund JSS concept is failing to make provision for continuing training programmes for students who failed in the BECE.
It is healthy to challenge any system when it fails to yield expected outcomes. Why are we copying "the Jones" and I point my fingers to America educational system.
On the contrary, in Britain the focus is on every student to succeed with regardless the their capability. Last year marked the first steps for the British educational system to test out new proposal of introducing the integration of vocational training with school curriculum in secondary schools. This proactive move is British was in response to a similar scenario we are having in Ghana re the drops rate of students under 16years.

The Government here realised this and decided to really invest in vocational training in schools to encourage students to have a vocation before leaving school. This is the sort of experiments worth considering within our own educational system knowing very well that evaluations of our current system are not favourable.
I am amazed that, we as a nation have not been smart enough to remedy the situation until now. Thus allowing 160,000 student drop out this year and say nothing can be done now to offer these students an alternative.

Based on the research on the integration of vocational training into school curriculum British students thankfully have a choice during the last term of their third year. Students have the opportunity to choose either the academic route or vocational combined programme.
Recently, the son of a friend who was failing academically found this choice a blessing when he returned to school his fourth year in secondary school. This same lad is currently, happy and enjoying school and increasing his confidence. He attends normal school 3 days in a week with his peers but for the other two days he spends in a mechanic training school. At 15 yr. He is now able to confidently change a car tyre and check the plugs etc. In Ghana on the other hand, our educational assume that we all students need to be academic studies in order to succeed in our insular world of ours. Other students have 2 days a week in catering schools, others in colleges studying graphic art designs, media studies, and filming etc. How could our youths compete with these products of student when they come to the world market?
In Ghana, on the other hand, where these skills are desperately needed, we focus on passing A'levels and going to Universities even if the means is not there. As highlighted by Nana Akomea why don't we introduce entrepreneurial skill training programmes to help students to be self-reliant after graduation. Although Professor Kwesi Andam, Vice Chancellor of the Kwame Nkrumah University of Science and Technology, also highlighted during the same day that on Oct 5, advising the youth to channel their energies towards profitable ventures for national development. Channel energies towards what profitable ventured. It could be argued that if our system is not offering
I urge the Nana Akomea not let go these 160,000 students alone to rot and go into the drugs, prostitution and armed robbery etc, but rather try and reach out to them by engaged in a form of apprenticeship work in pottery, sewing, catering etc. How could the Minister of Manpower say to the youths of our next generation that and I quote his exact words? "For now we can not guarantee the future of these students as government is yet to commence the apprenticeship training programme made available under the New Education Reforms."
Well, it is not only the NPP that one have to blamed for these educational mess up but the equally NDC too. It is sad when one sees children of both NPP and NDC children in the best schools in the U.K, America and else where while youths of the poor and vulnerable languish in mud classrooms in the rural areas, lacking the opportunity to have a promising career necessary to reach their potential. Why are the children of our MP's not schooling in Ghana? Is it because they realise that the educational system is not acceptable for their children or what? Nevertheless, it is refreshing to know that, Nana Akomea have now an identified need as lack of entrepreneurship training courses for students at the secondary and tertiary levels. He has highlighted that these are the major cause for the high unemployment rate among the youth.
There is no need and time to reinvent the wheel. The Minister of Manpower perhaps needs to visit the U.K or even link up with the British High Commission in Ghana to arrange some sort link. This would help his department come join in the an open evening in any secondary schools in the U.K He would then find out that, Ghana has a long way to go. Perhaps in hindsight enforce perhaps that all Junior Secondary School to have an open evening, so that future students could aspire to go to a given school based on what is on offer during the open day before they enrol? Activities of the schools could then be displayed and students of the school would students market their own school to parents of future students.
Who are we benchmarking against when it comes to the education of our youths anyway?
Are our youths our target group when it comes to technical education for our socio-economic development? Well then, why is this area not a priority in the Government manifesto when they came to power?
Is it not too late in the day, to bring such a topic when it is midnight for the NPP? Why didn't the Government bring this political hot agenda up during the dawn of their days in power? It is interesting to note that with an election around the corner we are reading more about such issues. Many intellectuals in Diaspora have also raised concerns about our current state of affairs in terms of education that would motivate and boost job creation. Dr Gabriel Ayisi wrote an excellent article on job creation issues last year. Didn't the Government learn anything from his articles? . What are we waiting for? What is the Government's vision on Education and the job creation opportunities then? Let hope the current Government fulfil it promises when given yet another chance to demonstrate that, it is fit for purpose when ever that would be?
One feels angry that politicians are messing about at the lives of our youths and nation. I would recommend that any Minister that takes office must perhaps do a presentation on the area he or she is to head so that the general public has an idea that MP's are competent and capable to take post. It is frustrating to know that both the NPP and NDC have failed our youths and missed opportunities to shine in this specific area.
Nana Akomea also highlighted that, the unavailability of such courses had resulted in a situation where most students could not put into practice what they had learnt at school because they lacked the technical skills and know-how to start their own businesses and looked up to government for non-existent jobs.
I must admit that when I visited La Bone Secondary School recently, I was amazed to see the progress made. I found the head teacher Mrs Joyce Agyekum to be very welcoming and we spoke at length about these very issues highlighted by Nana Akomea. She was also receptive to ideas and would encourage other Headteachers to follow this example because she did not know me but I felt at home. I hope other JSS would include pottery, mechanic, jewellery, animal farming and agriculture to offer students as choice in life as offer in La Bone secondary. We spoke about work experience placements but I gather this is not currently explored. Children in the U.K and else get two weeks off school and instead are place in a normal working environment to have a taster experience of any job of their preferred choice.
I hope the budget on Education would receive 100% invested because if we pay monkeys money to the Education of our youths in Ghana our future workforce we would get peanuts as our outcome that is crap future.

Fellow Ghanaians, this is simply just not acceptable. Our youth's future is at stake. We must not just think of our own children but the future of all youths, as they are the ones who would go on to be our future workforce. Ghana needs to ensure that the Black star remains THE BLACK STAR in all areas and not half-baked black star.
There is certainly the need to appeal to all the authorities of secondary and tertiary institutions, as Nana Akomea has discovered, spell out the impact of Technical Education on Our Socio-Economic Development as we in Ghana appear to underestimated this fact. It is our duty therefore to facilitate transformation to let Ghanaian torch of development shine throughout the lives journey of our youths.
It also grieves one heart in these modern times, to read yet again on ghanaweb.com Oct 5. It is a workshop, which was sponsored by the United Nations Children's Fund (UNICEF) to find ways of improving enrolment and retention of girls in school. It reported that, Chiefs and Queen's mothers in the Mfantseman District had called for re-introduction of corporal punishment in schools to instil discipline among pupils and students.
How naïve could these leaders be, in thinking this way, when the world is moving away from this barbaric forms of discipline. Indeed, in the past everyone assumed that corporal punishment the right way of disciplining. However, through evidenced -based research in child protection issues, domestic violence and etc, have highlighted that such practices is rather damaging of one self esteem and self worth. Hence the move away from this concept, on the contrary, it appears we as a nation have not moved away from this barbaric concept.
How could traditional leaders say that, the ban on the use of canes in schools, except in special cases when it must be administered by the head, has led to a break down of discipline. What these Traditional Leaders are failing to understand is that, our children need to be listened to and engaged in any negotiations relating to their lives. Our society does not listen to the views of our youths and the traditional leaders and elders believe they are in the right at all times. Thus imposing some of their negative, outdated views on the youths. In the U.K, there is even an organisation called the Connections, which helps youths in re-building their lives. Do we have such opportunities in Ghana or Citizens Advise Bureau? Our youths deserved to be listened to because it is their life, which is at stake not ministers.
I'm sure delegates who attended the workshop would have been disappointed hearing comments like these from our traditional leaders. .
Ghana must not fail its youths but rather invest 100% in education of any kind and perhaps use the U.K or Scandinavia countries to benchmark against when it comes to the education of our youths. Ghana desperately needs to prepare it youths, through the rough and tumble of life.
Another area worth exploring, one would suggest, is perhaps exchange programmes where by students from the South goes to live with a family in the North or the East or West for a week. It could be living with a family in a mud hut and behaving like them in everywhere for that week. A student from such a home would have the opportunity of also living family in the South in an average home. We need to encourage these types of school exchange to able our youths to appreciate where each other come from. It is only by living with people that we would get to know more about each other and stop the discrimination attitude of "them and us". When a student is given the opportunity of staying with a given family for a week for example, the student would gain different perspectives of that given family. It would also help in nurturing the student to perhaps conform in the real world out there. The starting point for this experiment would be from perhaps from JSS. These would then enable our system slowly instil respect and appreciation for each other. Many Europeans come to Ghana to have a taster experience of our lives of what we take for granted. For example, fetching water on our head, going to the riverside and fetching some fire wood in the rural areas. The simple way of living which takes students back to the medieval way of living even if some come from wealthy background. Some Europeans from very poor background yet want to see the world around them come to Africa and live like us just to taste how it feels like living in the South busy ghettos or the rural areas. On the contrary, in Ghana many rather prefer to remain in their comfort of their own homes and do not want to explore the immediate world around them. Sadly, focusing on Europe is not the best answer as the world in Europe is harsher than the ones we leave behind us in Ghana. We are missing out in the in the global world with rigid structure of our educational system. Why are we so insular and failing to bridge the gap between the rich and the poor.
We need to benchmark against the good of schools around the globe yielding good students and then benchmark against them.