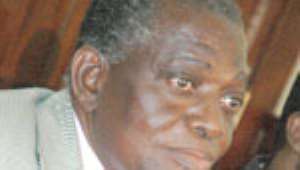 Passengers travelling on Delta Air flight from Accra to United States last Friday got stranded at the John F. Kennedy Airport in New York, sleeping on open floor at one of the busiest airports in the world.
Ministers and senior government officials travelling for government business in the United States were not spared the agony since they were among several hundreds of the airline's stranded passengers.
Some of the passengers were Mrs. Akosua Frema Osei-Opare, deputy Minister of Manpower Development, Youth and Employment and Dr Kwame Amoako-Tuffuor, Executive Chairman of the School Feeding Programme who were both connecting to Washington, D.C.

They all passed the night at the airport, squeezing themselves into chairs if they were lucky to find one, or having to contend with the floor.
Not even their business class tickets could save them, as they wheeled their baggage in frustration.
Also on the flight were members of the ruling New Patriotic Party (NPP), including vice chairperson, Mrs. Agnes Adzo Okudzeto who were attending the NPP-US branch congress in Dallas, Texas.
Mrs. Okudzeto got to the counter to formalise connecting flight to Dallas via Atlanta and was shocked to be told that the flight had left and that all other flights for the night had been cancelled.
The NPP vice chairperson eventually got to the programme very late, missing the main event. She only succeeded in attending the dinner dance, where she had the opportunity to read the Chairman's report.
Hon Felix Owusu-Adjapong, former Majority Leader and Minister of Presidential Affairs, who had earlier arrived in New York for the NPP congress and other political engagements in connection with his presidential bid, also had a rude shock when after boarding the plane to Dallas, they were asked to get down because of a technical problem, only to be told later that the flight had been cancelled.
He got to the congress midway into the programme, when Nana Akufo-Addo, former Foreign Affairs Minister had taken the platform by storm. Nana Akufo-Addo left the venue immediately after his speech for another engagement in Atlanta, Georgia.
After arriving at JFK, and going through laborious immigration formalities, the passengers who were to pick connecting flights to their final destinations were told point blank that their flights had been cancelled due to bad weather.
The stranded passengers' attempts to get a reprieve from the airline officials were met with cold water, as they categorically said the distressed passengers could not be accommodated at the expense of the airline.
Passengers who also missed their connecting flights owing to the long immigration procedures, as a result of the stringent security measures at US airports, equally spent the night in the open air.
However, there was no dropping of pants at the security checks points.
From Fortune Alimi, New York