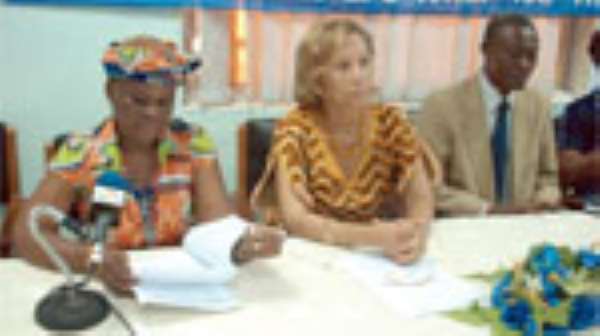 Spinnet Cluster, an association of indigenous manufacturers of textiles and garments, has called on government to institute tax reforms to help the industry to flourish.
"We appealed to government to look at how best the cost of essential raw materials bought on the open market could be tax-adjusted when used in production.
That is to say, the usage cost be adjusted to custom's zero rate as was originally intended and the resultant custom duty already paid refunded to the cluster member," Nana Akua Busia, President of the association, said at a press conference in Accra last Thursday.
According to her, government had done well by improving the tax regime of the textile and garment industry.
However, the association members were constrained in accessing the available tax incentive- the reason being that the sizes of individual members' working capital, even when put together, did not permit them to take advantage of the direct importation of raw materials at the zero-rated duty.
"In the light of the foregoing therefore, it has become very clear that in spite of government's good intentions of affording members of the cluster the opportunity to take advantage of the zero-rate incentive, we still are unable to take advantage thereof, and instead continue to suffer indirect high tariffs because of the way inputs are purchased and supplied to our factories."
The impact of the foregoing circumstance was that the Spinnet Cluster members and other small and medium local manufacturers of textiles and garments would continue to operate at high input costs, owing to the indirect tariffs included in their local production, and therefore cannot compete with the imported textiles and garment, as well as the numerous second hand clothing on the market.
She called on the Revenue Agencies Governing Board (RAGB) to take a critical policy review of the current situation for potential reforms in the interest of that sector of the economy.
Spinnet Cluster is made up of 35 indigenous small and medium textile and garment manufacturers. As part of its objectives, the cluster seeks export markets for its members by promoting African Traditional and Contemporary fashion and accessories on the international market.

The association also sources funding to support its members to exhibit at both local and international fairs.