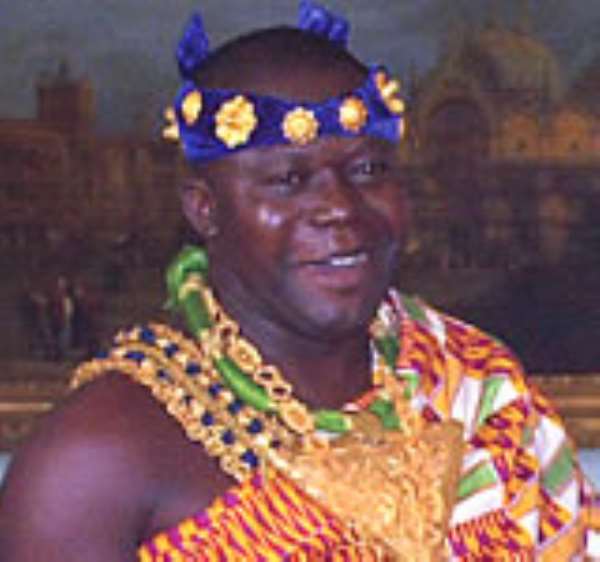 The Otumfuo Education Fund received a boost during the celebration of Akwasidae at the Manhyia Palace in Kumasi on Sunday with Ghana Supply Company presenting a cash cheque of GH¢5,000 (¢50 million) in support of the fund.

The Company also donated a carton each of red and white wine, Ramy Martin gin, Brandy and Schnapps to Asantehene.

Presenting the cheque and the drinks on behalf of the company, Nana Kusi-Appiah, Managing Director of the Company, accompanied by Board of Directors and the Head of Corporate Finance of the company said management was not at the Palace to pay homage but to congratulate him on his efforts to enhance the socio-economic development of the country.

With the Asantehene, Otumfuo Osei Tutu II, sitting in state and surrounded by chiefs and members of the Asanteman Council, people from all walks of life came to pay homage to him amid appellations from horn blowers, the Fontomfrom drums, Adowa groups and the "Kwadwom".

Among some of the dignitaries who celebrated the festival with Asantehene were Togbui Amenya Fiti V, Paramount Chief of Aflao Traditional Area, the Clergy and representatives of various Ashanti youth groups resident outside the country.

Togbui Fiti, was accompanied by Togbui Agbotadu Agbavi of Avoeme, Togbui Nyamekor Glakpe, V, Paramount Chief of Ave-Dakpa, Togbui Mawufe Ame Fugah, Paramount Chief of Voltarians in Ashanti and Brong Ahafo and Mr Sly Akakpovie, assembly member for Agorkpanu Electoral Area in Aflao.

In an interview Togbui Fiti expressed admiration for the administration and kingship of Asantehene.

He said this was his second time of celebrating the festival with the Asantehene and hoped the growing relations being established would go a long way to help in the development of his traditional area.

Togbui Fiti, who danced to Asafo Group songs to the delight of the people said, he has been able to bring Diamond Cement factory to his area and this has offered employment to the people.

He said through his own initiative, a Senior High School was established in the area and was being managed by the Traditional Council.