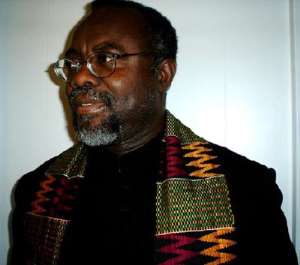 About two years ago, I had the "routine" misfortune to hotly challenge a white-American State University of New York (SUNY) sociology professor who had insisted during a guest-lecture at my school, that the life-expectancy rate of continental Africans, without any exceptions, whatsoever, was 35 years (I guess by his book, I ought to have expired some ten years ago).
I challenged Professor Peter Schwab largely because his preceding observation was patently false. Earlier on, the SUNY-New Paltz sociologist had "mis-introduced" himself to a colleague of mine as a scholar who had spent a remarkable amount of time researching the lifestyles of Eastern and Western Africans. Ironically, however, when upon my introduction to Professor Schwab, by my colleague, I enquired of the former exactly how long he had lived in Ghana while conducting his "extensive" research, for a newly-published book that he had showcased during the course of his lecture, Professor Schwab almost coyly interjected, "I was in Ghana for roughly two weeks."
The reader must have already predicted my auto-reaction to such brazen affront. Of course, I walked away sneering under my breath with the kind of utmost contempt that I was convinced Professor Schwab more than deserved. For here was an "expert tourist" who imperiously presumed his fortnight's visit to Ghana to have adequately equipped him with authoritative knowledge on Ghanaian lifestyle and culture. Indeed, what irked me more than all else was the fact that the man did not even speak a word of any indigenous Ghanaian language. And so what kind of "sociology" had he practiced in Ghana, short of transient sight-seeing?
Quite refreshingly, however, the man also claimed to have spent barely a year, or so, in Kenya; even so, beyond the superficial expression of a few pleasantries, and perhaps also curse words, in Ki-Swahili, the man might just as well have saved himself the hazard of a "Safari flight" into "the pristine jungles of nowhere."
Shortly thereafter, during the Q-and-A session following his pabulum of a lecture – or was it a veritable prolix? – I wreaked my long-awaited revenge on Professor Schwab. I partially agreed with him that, indeed, the life-expectancy rate of continental Africans left much to be desired, generally speaking, that is. But I also hastened to point out that while the general human-health situation on the primal continent was far less than ideal, even as a loose agglomeration of inorganic postcolonial polities, Africans were not as homogeneous in their lifestyles and cultures, as Professor Schwab preferred to cast matters. I also added that, indeed, while Ghana as a whole had quite a way to go to bring up its life-expectancy index to par with what generally prevailed in technologically advanced economies, my country's life-expectancy rate was much closer to 60 years than the dismal 35 years which the "expert" sociologist adamantly maintained.
At this juncture, Professor Schwab appeared to budge a little; for he rather stolidly added, "Of course, there are pockets of oases on the African continent. But I am only talking about what generally pertains."
My next logical riposte was: "Fair enough. But don't Ghanaians like me have a right to, at least vicariously, gloat on the fact of our country's being a part of the exception rather than the regressive and pathological norm?"
Need I tell my dear reader that I did not wait for an answer from this hatchet-sociologist before storming out of the lecture theater? Earlier on, the godforsaken sociologist had had the temerity of asserting that adulterous relationships were an acceptable cultural practice, or norm, all over Africa. I swear to you, dear reader, that I almost approached the lectern to "award" this lecturer some two or three dirty slaps for future reference and his expert's résumé. But then, I quickly came to grips with the grim and sobering reality of the fact that, after all, this was the United States of America where the African person was, at best, a mildly tolerated nonentity, even where unctuously patronized; and at the worst, a theatrical décor, just like a Kente sash or stole. Actually, the latter case more approaches death by hanging, rather than the quite merciless spectacle of a zoological denizen.
What I am trying to establish here is that the recent widely-reported research conducted by Ghana's nongovernmental organization known as the Longevity Project was, perhaps, superfluous (see "Ghanaians Are Dying Young – Research," Ghanaweb.com 10/18/07). About the only revelatory phenomenon regarding the Gye Nyame Concord article announcing the Longevity Project's research findings, was the "sumptuous" funerary photograph of an evidently high-brow cemetery accompanying the article. In sum, the picture appeared to loudly betray the anonymous reporter's assertion that grinding poverty was among the culpable elements responsible for the massive deaths of Ghanaian citizens at unacceptably young ages. Most of the graves pictured sported full-sized granite tombstones lavishly inscribed in what faintly resembled metallic plaques. Which left the critical reader wondering whether Ghanaians were, indeed, no avid suitors of the proverbial Leveler.
Of course, the preceding also readily reminded the reader of Health Minister Courage Quashigah's recent public decrying of the fact of Ghanaians having created a disturbing, if also unsavory, cottage industry out of the inevitable. The reality, though, as Major Quashigah is apt to honestly acknowledge, is that extravagant funerary celebrations as a Ghanaian institution is neither a twentieth- nor twenty-first century phenomenon. For the practice is as ancient as the people themselves. Which was why when then-Capt. Quashigah and his Armed Forces Revolutionary Council (AFRC) cohorts attempted to ban funeral announcements – actually "advertisements" – in 1979, many of us rightly deemed the AFRC Gang members to be out of their minds, if they actually had the latter. For it is quite certain, some twenty-eight years on, that both Messrs. Rawlings and Quashigah have, to date, made no public pronouncements seeking to ban, or proscribe, any nationwide celebrations of their own deaths, once the latter surely occur.
In sum, the most constructive means by which to vitiate the regressively overwhelming impact of the funerary cottage industry among Ghanaians, is to provide the best health and educational facilities to the people. And sad to say, the twenty protracted years that Mr. Rawlings' P/NDC governments held Ghanaians by the throttle actually convinced my people that with a remorseless human butcher at the helm of their affairs, the only solace was that which the proverbial Leveler bestowed.
Indeed, as early as 1948, Dr. J. B. Danquah was haranguing the British colonial administration for its grossly unwise preference of a policy of curative medicine to its preventive and more cost-effective counterpart. Needless to say, the putative Doyen of Gold Coast and modern Ghanaian politics may well have been the original brain behind the "TANKASSE" (or Town Council) tradition of training and dispatching public-health inspectors into many a rural Ghanaian (and also urban) community in the heady period leading up to the country's independence and shortly thereafter. Alas, today, this enviable and protective inheritance, once taken for granted, is virtually nonexistent.
Still, whether the mere publication of a health-oriented magazine like Ms. Anna Richter-Bannerman's Africa Alive is a viable substitute for public-health education, or even the "TANKASSE" tradition, remains to be seen. It also bears reminding ourselves that even in the year 2007, Ghana remains a predominantly oral traditional society. This means that unless the editors and publishers of Africa Alive magazine are willing to purchase adequate air-time on local radio stations and television across the country, in order to more vigorously promote their quite laudable agenda, stories such as the Gye Nyame Concord article titled "Ghanaians Are Dying Young – Research" would continue to dominate our media landscape.
*Kwame Okoampa-Ahoofe, Jr., Ph.D., is Associate Professor of English and Journalism at Nassau Community College of the State University of New York, Garden City. He is the author of "When Dancers Play Historians and Thinkers," a forthcoming essay collection on postcolonial Ghanaian politics. E-mail:
[email protected]
###################################