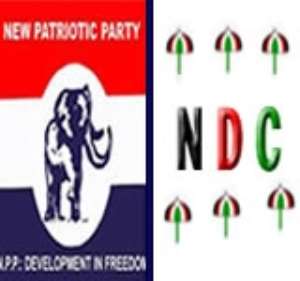 The New Patriotic Party (NPP), National Democratic Congress (NDC), Convention Peoples Party (CPP) and the Peoples National Convention have agreed to sign a pact against polarization of politics in the country on October 23, 2007.
A position paper made available to Ghana News Agency in Accra by the Institute of Economic Affairs (IEA) explained that the four parties have expressed concern about the polarization of the nation along partisan, economic, chieftaincy, ideological, gender and tribal lines.
The concerns were expressed by Nana Ohene Ntow, NPP General Secretary; Mr Johnson Asiedu Nketiah, NDC General Secretary; Professor Nii Noi Dowuona, CPP General Secretary and Mr Gabriel Pwamang, PNC General Secretary who form the Platform of General Secretaries under the Political Parties in Parliament programme.
The General Secretaries said the polarization had been deepened by the various coups d'etat that have occurred in the country since independence and admitted that something ought to be done to ensure unity and commonality of purpose to move the country forward.
To demonstrate their commitment to de-polarize the nation, the four parties have agreed to jointly sign and issue proclamation against "Polarization of Ghana's Politics," as the nation prepares towards Elections 2008.