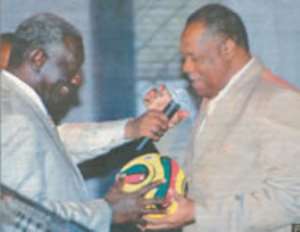 President J. A. Kufuor has said Ghana 2008 would provide a unique occasion to strengthen the unity and bonds of friendship among the 53 African nations.
Additionally, he said, the tournament would present an opportunity to showcase the continent's best teams and talents.
Addressing a large gathering of local and foreign sports enthusiasts at the official balloting of Ghana 2008 tournament in Accra on Friday, the President said African football was a promising industry which required huge investment by both local and foreign business entities to expand.
The 16 participating countries were divided into four groups. At the end of the balloting Ghana joined Namibia, Morocco and Guinea in Group A. Group B comprised Nigeria, Benin, Mali and Cote d'Ivoire and Egypt, Sudan, Zambia and Cameroun fell into Group C while Tunisia, Angola, South Africa and Senegal are in Group D.
Many Ghanaian sports fans at the Accra International Conference Centre, the venue of the draw, burst into jubilation at the end of the exercise, apparently because they perceived Ghana's group as manageable.
President Kufuor said the huge investment support for the football industry would provide additional opportunities for talented footballers in Africa and the world generally. "This is no doubt one of the reasons for the African Union's declaration of 2007 as the International Year of African Football," he said.
He said the last World Cup tournament in Germany provided evidence that African football was part of the global industry.
The President of the Confederation of Africa Football (CAF), Mr Issah Hayatou, commended Ghana for the role it had played in the development of football on the continent.
He said Ghana's prowess was not limited to football but extended to the area of doing business.