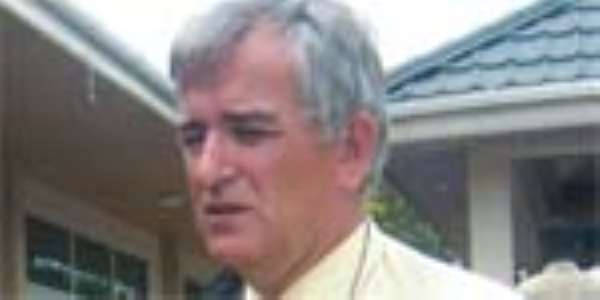 AngloGold Ashanti (AGA), one of the world's four largest mining companies, is operating at a huge loss, as the company's Obuasi mine is said to be in a deplorable state.
The Financial Controller of AGA, Amo Mensah disclosed the current financial status of the company when the Minister of Lands, Forestry and Mines, Esther Obeng Dapaah and her deputy, Rita Tani Iddi, recently paid a familiarization visit to the company.
The company was likely to make a loss of $6,542million at the end of this year as its expenditure continued to surge above its revenue.
He said although the management of AGA hoped to rise above its financial constraints by the next two years, things would continue to be difficult for the company.
Mr. Yiadom Boakye Amponsah, Human Resource Manager of AGA, who took the minister and her entourage round to inspect facilities of the company, said AGA had not shirked its social responsibility despite its current financial constraints.
He said apart from school buildings, scholarships and mass cocoa spraying exercise that AGA had made available to the people, it recently awarded GH¢4,744 ($5121.45) contract to the Obuasi Tailors Association to manufacture 192 operators' uniforms.
The Minister of Lands, Forestry and Mines, on her part, pledged her ministry's preparedness to support AngloGold Ashanti's Obuasi mine, so it would overcome some of its difficulties.
Mrs. Dapaah said although AGA was currently facing some financial difficulties, it behoved it not to shirk its social responsibilities as that formed part of its directives.
She commended AGA for its numerous contributions and urged its leadership to extend its benevolence to other areas.
Touching on the activities of illegal mining on the concessions of the company, the minister urged the managers of AGA to organize regular dialogue with the people at Obuasi to find a lasting solution to the problem.
When the minister and her entourage paid a courtesy call on the chief of Anyinam, a suburb of Obuasi, Nana Amoabeng Kotoko II appealed to her to use her position to ensure that chiefs in the area got some of the royalties paid to Otumfuo Osei Tutu II, the Asantehene, for development projects in the area.
He lamented that regardless of the suffering people in Obuasi went through, they had never received any portion of the royalties paid by AGA.
From Stella Danso, Obuasi