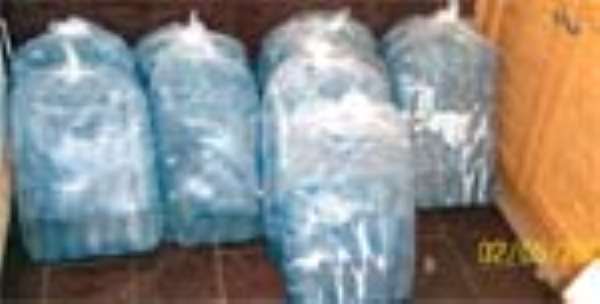 THE UNION of Sachet Water Producers has criticized the decision by the Sachet Water Producers Association in the Ashanti Region to increase price of sachet water to 10Gp from November 1, this year for a 600 milliliter (ml) pack of filtered drinking water.
Constituting about 80 per cent of the market share, the union, which included Mobile Water, Yes Mineral Water, and Standard Water among others, said even though the prices of plastic materials had gone up on the market, it was untenable for the Ashanti Region-based Sachet Water Producers to increase sachet water by a 150 per cent margin.
Speaking in a telephone interview with CITY& BUSINESS GUIDE, president of the union, Magnus Nunoo said it was unrealistic and outrageous for their colleagues to take this entrenched position, noting that such a move had the tendency to create distortions on the market.
"You need to do scientific calculations, taking into consideration the amount of change in the price of plastic as well as price of crude oil on the world market.
"Though the price of crude oil keeps surging on the world market, the effect is not immediate," he explained.
Mr. Nunoo however said the union had plans of increasing sachet water from the current 400Gp to 500Gp though it may not take place before December 1.
The discussion to increase the prices of "pure water" from its current price of ¢400(4Gp) to 1000 (10Gp) was announced by the Sachet Water Producers Association of the Ashanti Region last Wednesday.
The announcement drew the anger of consumers.
Some consumers that CITY & BUSINESS GUIDE spoke to in Accra could not help but express shock, stating that they would protest vehemently.
Those in the Ashanti Region also complained bitterly through phone-in programmes by radio stations but their cry seemed to have fallen on deaf ears, as members of the association of sachet water producers in the region insist on the increase in prices.
Meanwhile, president of the Consumers Association of Ghana, Dr Fredinard Tey, has said that the proposed price increment is too astronomical.
To him, "even though the price of petroleum products have gone up, that does not give them the mandate to off-load the cost unto consumers".
Water, he said, was life and with the proposed increase in the price of sachet water, it would have rippling effects on the lives of the citizenry.
The price of sachet water until recently was ¢300 before it was increased to ¢400 in June, 2007.
By Emelia Ennin & Charles Nixon Yeboah