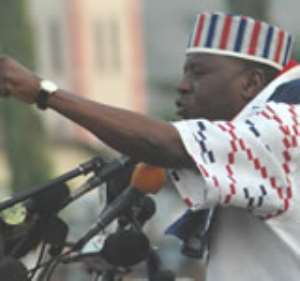 Vice President Alhaji Aliu Mahama on Thursday filed his nomination papers to formally set the tone to contest the flagbearer slot of the ruling New Patriotic Party (NPP) for Election 2008.

Before the arrival of the Vice President at the party headquarters at Asylum Down in Accra at 1100 hours, cultural drummers and dancers from the Northern Region put on a display to entertain the teeming supporters who stormed the place.

Other supporters who could not join the exotic dance either celebrated the occasion with brass band music or Adowa.

Ecstatic Alhaji Mahama could not help but join in the euphoria with some calculated movements, as he made his way to the office to submit the nomination documents to the admiration of his supporters who burst into unending applause.

He immediately declared: "The campaign has just started. Now I am going to hit the road to ensure that I cover all the constituencies, wards and hamlets to ensure that victory at the December 22, Special National Delegates' Congress becomes certain."

The Vice President charged his supporters to go all out to campaign on issues to woo the delegates and the rank and file of the party to ensure victory.

He also tasked the National Executives to be transparent and prudent in the management of the process leading to and after the congress "to ensure that we come out of the congress united and battle ready to retain power".

Alhaji Mahama used the occasion to commend NPP foot soldiers, executives at the ward, constituency, regional and national levels for their tenacity and resilience towards the growth of the party.

Nana Ohene Ntow, NPP General Secretary, who received the nomination forms, said "the peaceful and orderly nature of the process of filing had deflated our critics, opponents and the prophets of doom who manufactured stories that the scores of aspirants vying for the single slot would lead to disintegration".