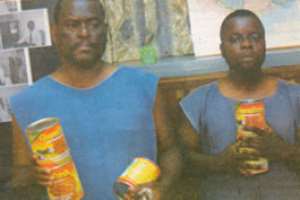 A large quantity of cocaine concealed in 60 cans of palmnut cream concentrate and meant for export to the United Kingdom has been intercepted by security operatives at the Kotoka International Airport, Accra.
Experts valued the 60 containers of the stuff at $3 million. Two suspects, Emmanuel Darkey, 50, the exporter, and Kirk Patrick Akoto Bekoe, 28, a freight forwarder, are currently in custody pending further investigations.
They were arrested at the Aviance Cargo Village at the Kotoka International Airport.
Each of the cans contained two kilogrammes of pure, cocaine when it was weighed and tested in the presence of the suspects last Tuesday.

Although the cans were labelled as GhanaFresh Palmnut Cream concentrate, there was no such thing in them.
Without tampering with the lids of the cans, the perpetrators had cut the neck of the cans, filled them with the cocaine in white polythene and resealed them.
Three cans of the cocaine were concealed in a box of pepper labeled as Produce of Ghana, Fresh vegetables.
The use of the GhanaFresh Palmnut Cream cans has raised concerns about the impact of such criminal activities on genuine Ghanaian business trademarks on the international scene.
Until recently, drug dealers were using Nkulenu Palmnut concentrate cans.
The re-packaging was neatly done in such a way that it would take a trained eye to detect it, since the lids remained intact.

Darkey, who is based in London, claimed he came to Ghana two weeks ago to purchase vegetables for export to London.

He told security personnel that the consignment was given to him by another exporter, Michael Osei, to add to his.
When asked whether he knew the contents before accepting them, he answered in the negative.
As to why he accepted the goods, particularly when there was security alert for travelers and exporters not to accept any parcels or goods from anyone without knowing their contents, Darkey admitted he acted stupidly.
A source at the Bureau of National Investigations (BNI) told the Daily Graphic that security personnel suspected the movement of the boxes containing the supposed vegetables and asked that they be set aside for further investigations.
It said the operatives arrested the freight forwarder, who in turn led the security personnel to arrest Darkey.
According to the source, officials of the Narcotics Control Board (NACOB) were duly informed and asked to inspect the products.
The source said when officials of NACOB brought their field test kit, they tested the supposed vegetables but they turned out to be nothing but cocaine.
It said the exhibits were being forwarded to the Ghana Standards Board (GSB) for further testing, while the suspects were being investigated for prosecution.
Source: Daily Graphic