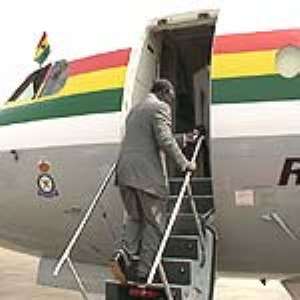 President J.A. Kufuor left Accra on Wednesday morning for Malabo, Equatorial Guinea for a one-day working visit.
A statement signed by Mr. Andrew Awuni, Press Secretary to President Kufuor said while Malabo, President Kufuor will hold consultations with his counterpart, President Theodoro Obian Nguema Mgasogo and later participate in the commissioning of the country's multi-million dollar Liquefied Natural Gas Plant.
He was accompanied by senior Government officials and will return on Thursday evening.