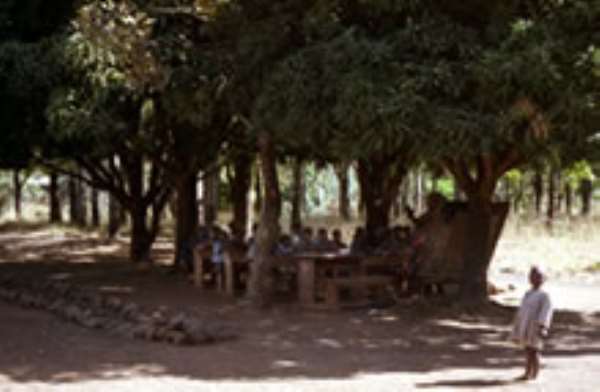 Inadequate infrastructure at the Bethel Presby Junior High School at Atonsu, a Kumasi suburb, "has compelled the school authorities to be conducting academic work under trees in the school for a section of the pupils.
About 600 pupils from kindergarten to primary six are affected by the current exercise, and this is undermining academic work.
For the past two years that the storey building, which accommodated the pupils, caved in, the pupils have to be in school early enough to arrange their furniture under the trees for academic work to begin.
Anytime it rains, academic work in the school is suspended because the pupils have to join their senior colleagues in the other classrooms, compelling the teachers to suspend teaching.
Academic work under the trees is also affected when the weather becomes windy.
The Head teacher, Mr Victor de Graft Etsison, said he had written to the GETfund Administrator outlining the problems confronting the school, and that even though he had appealed for support to construct a new classroom for the school there had not been any positive response so far.

He said he had also contacted both the Ashanti Regional Minister and the Kumasi Metropolitan Chief Executive who bad paid separate visits to the school to ascertain the seriousness of the problem but their visits were yet to be translated into any positive assistance for the school to get a new block to accommodate the pupils.
The Member of Parliament for the Asokwa Constituency, Mr Maxwell Kofi Jumah, has provided canopies to accommodate some of the pupils as a temporary measure, while efforts are being made to find a permanent solution to the problem.
Mr Etison who expressed concern about the situation when he conducted the round the school said without prompt measures to address the current problem, the commitment of the teachers to improve on academic work would not yield any positive result.
He said the trees were not enough to accommodate the 600 pupils so they had resorted to the morning and afternoon shift system "but this was undermining effective academic work because the contact hours of six have reduced to three hours."
"We are always at the mercy of the weather because anytime it rains the pupils have to vacate their place, remove the furniture and join their senior colleagues in their classrooms," he noted.
He, therefore, appealed to all stakeholders to come to their aid and construct a permanent block for the affected pupils.