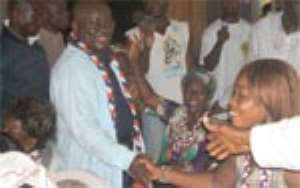 Nana Addo Danquah Akufo-Addo, former Foreign Minister and one of the New Patriotic Party (NPP) presidential aspirants, has noted that the party would only be able to win the next general elections if it presents a strong leader as candidate.
According to him, a party with strong structures may lose miserably in elections if it failed to present a strong candidate with a good message to the electorate.
He also debunked claims within some political circles that he was hotheaded and arrogant, saying he was only robust when it came to fighting against injustice.
"Many people are going round with rumours that I am arrogant and that with my hotheadedness, I will jail the former President, Flt. Lt. Jerry John Rawlings if he makes any of his boom statements, but that is not true.
There is no such agenda," he said.
Still hammering on strength, the Abuakwa South MP said there was no point in claiming he was too old for the presidency, and jested that the real strength of a man could only be determined by a woman. This statement received rapturous applause from the women in the crowd.
Nana Addo went on to say that a person's track record should be of more importance to the party's delegates than just the issue of age, and explained that the presidency had no expiry date.
The aspirant made these known when he gave a powerful address at a meeting with thousands of party faithful at the Arts Centre in Accra yesterday.
He said it was unfortunate that the very people who described his frank nature as bold, courageous and articulate when the party was in opposition, now saw the same traits as arrogance and pomposity.
"Unfortunately, those making the excuses were in hiding under their wives' beds when the battle was tough. I am neither arrogant nor hotheaded. The only truth about their claims, and which I accept, is that I hate injustice. And if that is hotheadedness, then so be it," he insisted.
He said the 2008 elections would be a unique one for the NPP in the sense that it would, for once, be presenting a new leader to the masses, and stressed that the person needed to be vibrant and easily marketable, lest the party makes the kind of mistake that dearly cost the opposition National Democratic Congress (NDC) in 2000.
He noted that whenever an organisation was faced with changing its leadership, great care needed to be taken for a smooth transfer of power and recalled how the NDC founder, Jerry Rawlings, shot the party in the foot with the 'Swedru Declaration' when he unilaterally presented Prof. John Evans Atta-Mills as the one to succeed him.
"We in the NPP have to be guided by the mistakes of the NDC, especially how the Swedru Declaration caused the party to split.
We should also admit that even though this government has made a lot of strides, we are not in paradise yet. There is a lot of hard work to be done before we can get there," he noted.
Nana Addo cautioned that the NDC was aware of a death knell awaiting it if it lost the next elections, and was thus not resting on its oars, but poised to give the ruling party a fight of its life.
He said the NPP needed to work hard to keep the NDC in opposition for as long as it took, emphasizing that all would depend on the quality of the flagbearer.
On the number of aspirants in the race, he said he did not think it could lead to problems for the party after the congress, more so when it had a sound democratic base.
"Our party is not a one-man party, and that's why we never had a founder/leader. We first vote for people before we raise their hands and declare them as flagbearers.
And in all these, we immediately become united soon after a leader is elected. We believe in the principle of vigorous contest, unity thereafter," he said.
Declaring himself a true party man, the former foreign minister said he was currently the undisputed household name on the political terrain and opined that he would be the easiest to market when picked as the candidate.
Hon. Akufo-Addo however took a swipe at those aspirants running their campaigns along ethnic and religious lines, saying it was dangerous and divisive.
He described all 19 aspirants in the race as either potential winners or losers, and asked delegates to enquire from all of them how prepared they were to accept defeat at the December 22, 2007 national congress.
Participants at the meeting were drawn from 14 constituencies in the Accra metropolis.
They included Ablekuma (North, South, Central), Ayawaso (East, West, Central), Okaikoi (North, South), La/Dadekotopon, Korle-Klortey, Krowor, Odododiodoo, Ledzokuku and Weija.
Seven out of the 19 aspirants had so far returned their completed nomination forms, but even though he was yet to return his, Nana Akufo-Addo was neck-deep in his campaigning, and viewed as one of the most serious contestants.
By Bennett Akuaku