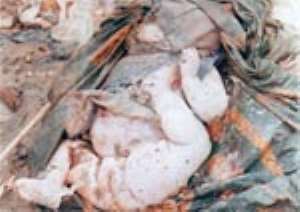 THE ASHAIMAN Police have intensified search for a "good Samaritan" who buried without police authorization, the remains of an unidentified baby girl found in the Gbame dam at the Asensu Electoral area in Ashaiman.
The Assemblyman for the area, Mr. Abdul-Aziz Suleyman noted that his attention was drawn on Sunday to an object floating on the water and when he got there he realized that it was the body of a baby.
He indicated that he left the scene to report the case with the Ashaiman police and solicit support to remove the body from the dam for burial, but noticed on his return that someone had taken it and buried it close to the drain.
He expressed shock over the action, especially when it happened moments after he had left the scene for the police station.
Mr. Abdul-Aziz told DAILY GUIDE that he had reported the incident to an environmental officer in charge of the area, but information reaching this paper indicated that as at Monday, October 16, the authorities were yet to exhume the body. This might be because Monday was a holiday.
The body of the baby who is believed be two months old, as at Sunday when it was taken out of the water, had decomposed, probably the reason for which the good Samaritan decided to burry it to avoid any epidemic in the vicinity.
It is believed that somebody either threw the dead baby into the dam or abandoned it, resulting in it being carried away by the rain on Friday, October 12.
From Simmons Yussif Kewura, Ashaiman