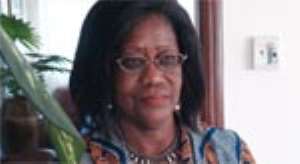 A TEAM of experts headed by the Chief Advisor to the President, Mrs. Chinery Hesse, has been formed to advise the government on the advantages the country could derive from the discovery of oil in the nation.
Ghana recently discovered oil in huge commercial quantities, courtesy a U.K.-based oil firm, Tullow Oil.
President John Agyekum Kufuor, who disclosed this at the just-ended first business roundtable conference in Accra organized by Economist Intelligence Units, said government was looking at how best the nation could benefit immensely from the discovery of the oil.
The President said the experts would guide the country on the rules of exploratory rights and other necessary details that come with it.
He assured Ghanaians that revenues from the country's recently discovered oil would be harnessed efficiently to develop the economy.
He said since the nation had the advantage of learning from the woes of other oil-rich countries, government would make sure that Ghana did not suffer the same or similar fate.
According to the President, the major areas of the economy which needed urgent attention with respect to the oil revenue were railway, airports, education and health.
"If Ghana should continue to be the hub of business in the sub-region, then we must develop our transportation system," he said.
Meanwhile, reports say Tullow Oil has abandoned an appraisal well on the Shallow Water Tano block after failing to find commercial quantities of oil.
The hole, known as 1N-3X, had been drilled to a total depth of 3,075 metres.
"Hydrocarbon bearing sandstones were encountered in this well but logging results indicated that the sandstones would not flow at commercial rates.
The well has therefore been plugged and abandoned," Tullow said in a statement.
Last month, Tullow Oil said its recent Ghana discovery may contain recoverable reserves in excess of 1.3 billion barrels.
It was not clear if this abandoned well was one of the wells previously announced as containing oil.

By Felix Dela Klutse