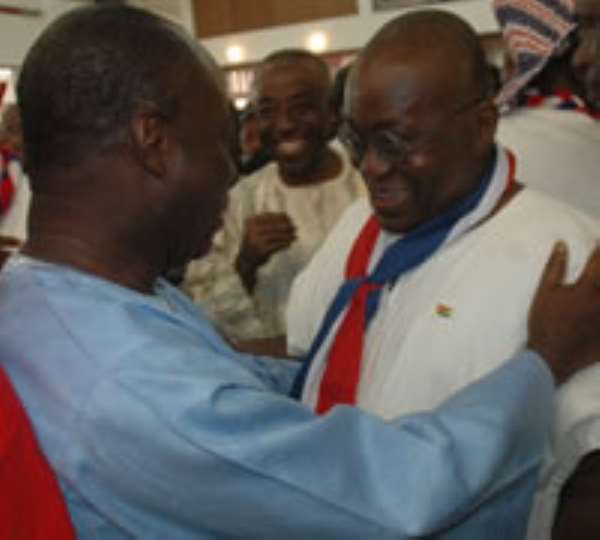 Nana Addo-Dankwa Akufo-Addo, aspiring to lead the New Patriotic Party (NPP) to Election 2008 as presidential candidate, has urged delegates to the party's December 22 congress that they wield a very powerful mandate that should not be compromised at all.
He said the party has in the past been justified in its choices of leaders, a tradition that must continue with objective minds and not minds influenced by monetary considerations or presidential veto.
He was addressing party members and supporters at a rally at the Arts Centre in Accra on Tuesday.
"What I know is that the President has repeated on more than one occasion that he is not behind anybody. That he would accept whoever the congress would elect and work with that person. If anybody comes here and start talking about the president says this, the president says that, tell the person to leave the president's name alone."
Nana Akufo-Addo said he was hopeful that the NPP would make history at the next elections and predicted that the NPP would hand over power to an NPP administration, a feat he said the National Democratic Congress desired but failed to achieve under ex-President Rawlings.
When that history comes to pass, he predicted that 'President Kufuor would hand over power to President Nana Addo-Dankwa Akufo-Addo,' a prediction that sent the gathering into spontaneous applause.
Turning on why he is the obvious choice for the party in the list of about 19 aspirants, Nana Akufo-Addo, who described himself as a 'small, simple man', peace-loving and people oriented, said his works in the two portfolios President Kufuor offered him in his government (as Attorney General and Minister of Justice, and also as Foreign Minister) speak volumes for what he can do.
He also prescribed what a would-be leader to replace President Kufuor should possess, including; full blown party membership and not one who just bought the party's I/D card; a unifier capable of reconciling the party and a consensus builder; a winner - somebody the NPP likes and the entire nation approves of; and above all an inspirational leader.
"If we say we are looking for a winner, I am the winner, the winner is me. I am the winner for the NPP. Of all those of us who are struggling for the leadership of our party, nobody's name is on the lips of the party people quite like my name. And within the country itself, none of them is on the lips of Ghanaians quite like my name. So if you put the flag in my hand, selling me, so-called marketing me, will not be difficult because already the name is known all over the country."