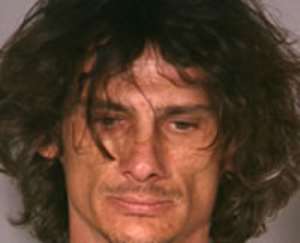 A man wanted in the videotaped sexual assault of a 3-year-old girl has been arrested, according to police in Nevada.
Chester Arthur Stiles, 37, was arrested following a routine traffic stop around 7 p.m. (10 p.m. ET) Monday night.
Henderson Police Officer Mike Dye said he pulled over the white Buick Century Stiles was driving, because it did not have a license plate.

Dye said he became suspicious after the driver gave him an expired California driver license with a photo that did not match his appearance.
Dye and another officer, Mike Gower, continued to question Stiles until he admitted his identity.
"He finally told us, 'Hey, I'm Chester Stiles. I'm the guy you're looking for,'" according to Dye. "At that time, he said, 'I'm sick of running.'"
Dye said Stiles was calm and cooperative.
"We got a bad individual off the road, and it feels good," Gower told reporters.
Stiles has been turned over to Las Vegas Metro Police, who were seeking him in connection with a four-year-old videotape that shows a small girl being sexually assaulted.
The girl, who is now 7, was found last month with her family in Las Vegas after a nationwide search generated thousands of tips.
Las Vegas Police Capt. Vincent Cannito said 21 warrants for felony charges have been issued, based on what was seen on the videotape, including sexual assault.
"We don't know if we're going to find any other victims," Cannito said.
Stiles, a resident of Pahrump, Nevada, was also sought by the FBI in a separate matter involving state charges of sexual assault and lewdness with a minor under the age of 14.
The tape of the girl's sexual assault was given to authorities by Darren Tuck, who told police he had found it in the desert five months earlier.
Because of the delay, during which police said Tuck allegedly showed the tape to others, he faces charges of exhibiting pornography and possession of child pornography.
He turned himself in to authorities in Nye County, Nevada, on September 30.
Professionals have evaluated the girl in the videotape since she was found, and she appears to be "healthy and fine and happy," her mother's attorney said earlier this month.
The mother had not known her daughter had ever been victimized and was apparently oblivious to efforts to find her until late last month, Jerry T. Donohue said.
"A family friend called her and said, 'My God, you need to turn on the TV. I believe that is your daughter,'" Donohue said.
Donohue said the mother recognized Stiles, a former animal trainer.
The abuse most likely occurred while the mother -- a single woman working six days a week -- was at work, Donohue said.
Stiles' former girlfriend, Tina Allen, told CNN this month she thinks she is the reason Stiles came in contact with the girl and is "mortified" by the allegations against him.
"He said he'd been in the Navy and, you know, I was looking for a strong guy to represent to my sons what I thought they needed to be," Allen said.
Allen said she took Stiles to a crowded apartment where her son and daughter lived. Also living in the apartment were a family friend and her daughter, the assault victim.