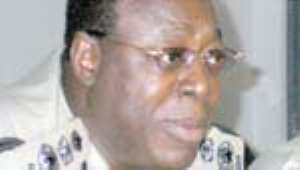 Unconfirmed reports reaching DAILY GUIDE indicate that all 14 occupants of a JMC Ford vehicle with registration number GT 7232 Y that was involved in an accident on the Gambaga-Walewale road in the Northern region last Friday are feared dead.
As reported exclusively in DAILY GUIDE last Saturday, six officers died on the spot. They have been identified as ASP Alex Anaman of the Police Hospital, Rashid Mahama, Ofori Ebenezer, Kona Monik, Asiem Baba and Mibal Minyeliya.
Unconfirmed report says the other occupants of the vehicle died later at the hospital.
Sources say one of the deceased was a bodyguard of General Hamidu, former National Security Coordinator and High Commissioner to Nigeria.
With the exception of the driver and a fire officer, all the other 12 passengers were police officers.
They were said to be accompanying the body of the mother of an ex-service man, Pastor Musah, from Pokuase near Accra to Bunkpurugu in the Bunkpurugu-Yunyoo District of the Northern region when the disaster struck.
Pastor Musah, the owner of the Ford bus, is also the Chief Executive Officer of a private clinic at Pokuase near Accra where the body was being conveyed from.
The uniformed men met their untimely death around Tinguri about 20km from Walewale, when one of the front tyres of the vehicle burst and the driver lost control of the steering wheel.
The vehicle, according to eye witnesses, zigzagged on the main road and somersaulted three times before landing in the middle of the road.
The injured, including the driver and the fire officer, who were flown in a helicopter from the Walewale Government Hospital to the Tamale Teaching Hospital and later transferred to Accra, according to latest information, did not survive.
The bodies of the first six deceased persons were deposited at the Tamale Teaching Hospital mortuary for autopsy but as at press time, it was only the relatives of DSP Alex Anaman who had showed up at the hospital.
The bodies are decomposing due to the bad nature of facilities at the Tamale Hospital morgue, compelling the hospital authorities to appeal to the relatives of the others to come for them.
From Stephen Zoure, Tamale