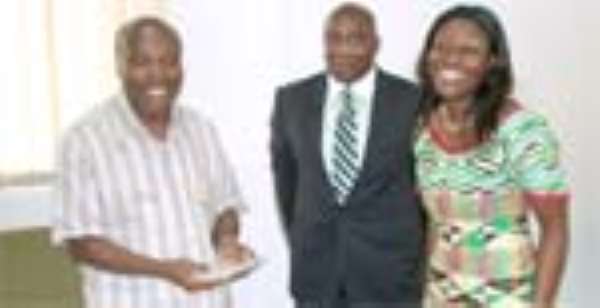 The United States of America branch of the New Patriotic Party (NPP-USA) has presented cash of $5000 to the National Health Insurance Council.
The money is to cover the insurance premium of victims of the recent floods in the country.
According to Ras Boateng, Executive Secretary of the Council, the money would cover the premium of 500 people.
Presenting the donation on behalf of the NPP-USA, Mrs. Abena Dapaah Ofori-Atta, treasurer, said the fund was generated from the '2 by 1' initiative adopted to raise money to support the NPP presidential candidate for the 2008 election.
Accompanied by her husband, Eric Ofori-Atta, she said the USA branch of the party is aiming at raising $200,000 to support the party and the US members who want to contest in the parliamentary election.
The NPP-USA is holding its congress next weekend in Dallas, Texas where party gurus are expected to take part.
According to Mrs. Ofori-Atta, the party was touched by the plight of the flood victims, hence the prompt response.
She said victims of the flood deserve a helping hand and appealed to individuals and groups to come to their aid.
Mr. Ras Boateng expressed his appreciation for the support, and promised that the NHIC would use a fair system to dispense the funds.
He explained that it was not the first time donations had come from overseas, citing a similar donation from Ghanaians in France.
He said the money could be used as top-up for the aged, some of who could not afford the registration fee even though they are exempted from paying premium.
Mr. Boateng said the only way the less privileged could benefit from the health insurance scheme was for public spirited individuals and organizations to support them.