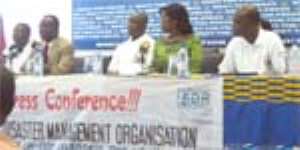 Wednesday 10th October was World Disaster Reduction Day (WDRD). On this day, the Ministry of Information and National Orientation hosted a conference under the theme, 'Disaster Risk Begins at School'.
First, the Hon. Nana Obiri Boahen, Minister for the Interior, spoke about the importance of WDRD in ensuring 'effective coordinated efforts' of the collaborating agencies for disaster prevention.
Although the movement was started in the 1990s, a period which the UN declared the 'International Decade for Natural Disaster Reduction', the country as a whole is still very badly affected by disasters.
The UN has held WDRD every year since the year 2000, hoping to move World Disaster Management to a higher level.
The UN Secretary General, in his speech presented by UNDP Resident Representative Mr. Daouda Toure, stated that there is "a moral, social and economic obligation to act".
His message was that disaster management is a combination of strong building codes, sound land use, good planning and early warning systems, environmental awareness and evacuation plans.

But above all, he said, disaster management is about education, which was captured in the theme of the 2007 international WDRD.
Speakers at Wednesday's conference all agreed that the next step in World Disaster Management is to educate children in school about disaster management and procedures.
As the Hon. Nana Obiri Boahen pointed out, children represent the hope for the future. In educating children on disaster risk, Ghana can protect itself from the after-effects of disasters such as floods, droughts, storms and cholera.
In order to ensure that children are correctly educated, standardized disaster risk reduction must be integrated into the national curriculum.
This will encourage a stronger awareness and better understanding in the youth of today of the environment in which they live.
Children who are well-educated in disaster risk reduction may play an important role in the nationwide movement towards disaster management.
Also speaking at the conference was Douglas Akrofi Asiedu, the National Coordinator of National Disaster Management Organisation(NADMO). Now, NADMO is also laying emphasis on the public education of children on disaster risk-reduction, as well as disaster prevention in the form of effective planning.
The message from the speakers was a powerful one, summed up in Asiedu's closing remarks: "There is a nationwide obligation to be involved in Disaster Management.
Every Ghanaian should be aware that he/she has a part to play in reducing the risk of disaster, and, indeed, the best way to ensure that this happens is to educate the children of today while they are at school."
A report is expected to be presented to the government, and made open to the public, in order to encourage the government to make disaster risk reduction lessons part of the national curriculum.
By Jessica Jennings