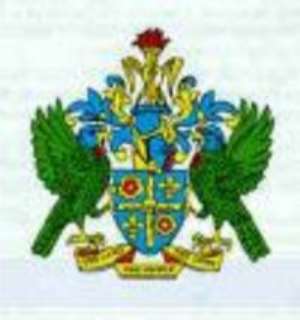 A Bill seeking to confer enforcement powers on the National Disaster Management Organisation in an attempt to effectively implement its constitutional obligations has been tabled before Parliament.
The Bill, among other things, seeks to mandate all heads of Metropolitans, Municipals and Districts Assemblies to have emergency and contingency plans at the various places of work should disaster happens.
According to Kwaku Osei-Akom, Deputy National Co-ordinator in charge of Finance and Administration, held that the Bill has reached the final reading stage, "and I know that in a month or two, it will be passed into law."
Dr Osei-Akom, in lamenting NADMO's ineffectiveness in enforcing its laws and programmes, described his organisation as a "toothless bull dog-which can see, can recommend but cannot enforce."
He made these remarks at 'Meet the Press series' in Accra, Wednesday on the occasion of World Disaster Risk Reduction Day which was held all over the globe.
This year's celebration was under the theme: "Disaster Risk Reduction Begins at School," which is expected to promote the integration of disaster risk education in school curricula in countries vulnerable to natural hazards.
It is also a move to increase awareness on the positive impacts of school safety and disaster risk reduction in schools, and to increase action and use of good practices to mobilise the various stakeholders, build capacity and guide others to existing resources for training in the area of disaster risk education and school safety.
Minister of State at the Interior Ministry, Nana Obiri Boahen also held that the Day is an occasion for the "identification, motivation and mobilisation of the collaborating agencies to ensure effective coordinated efforts for disaster prevention and mitigation."
According to him, the theme for the celebration is timely as the effects of the recent catastrophes that hit the nation such as the Northern Floods, collapse of buildings and domestic fire outbreaks are still fresh in the memories of Ghanaians. As such, "more effort is needed to protect our children before disaster happens."
He promised government's full support for NADMO saying, "As we enter an era when the function of our National Disaster Management Organisation is being refocused on Disaster Risk Reduction, I wish to state that Government will do its best to ensure that the Organisation is well resourced to play its pivotal role in Disaster Prevention in this country."
A statement issued by Ban Ki Moon, UN Secretary General on the Day read in part, "disaster risk reduction is about stronger building codes, sound land use planning, better early warning systems, environmental management and evacuation plans and, above all, education. It is about making communities and individuals aware of their risk to natural hazards and how they can reduce their vulnerability."