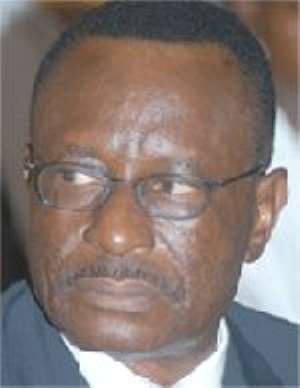 Stanley Nii Adjiri Blankson
The Accra Metropolitan Assembly (AMA) is to embark on a massive decongesting exercise beginning on Sunday to rid the city of unauthorised structures.
The exercise, which is the third in three years, follows the persistent refusal of hawkers to move into authorised structures provided for them by the AMA .
The AMA Chief Executive, Mr Stanley Nii Adjiri Blankson, who announced this in Accra yesterday, said the exercise would last three days and named the areas to be affected as East Legon, Airport Residential Area, Tetteh Quarshie, Dzorwulu, Cantonments and Labone.
He added that about 250 police personnel and 200 members of the Community Protection Unit of the National Youth Employment Programme (NYEP) would be deployed to those areas during the exercise.
He warned that the city authorities were stopping at nothing to ensure that there was discipline that befitted the status as a national capital, pointing out that it was regrettable to observe the indiscriminate erection of unauthorised structures in residential areas.
He announced that personnel from the Volta River Authority (VRA) were also expected to assist in the operation to get rid of structures that had been built close to properties belonging to the VRA such as high tension poles and electrical transformers.
Mr Adjiri-Blankson observed that the high incidence of illegal structures was depriving the AMA of the needed revenue to effectively carry out its mandate, adding that some residents in the metropolis had resorted to using other unorthodox means to evade the payments of property rate to the AMA.
He stressed that hawkers in the city accounted for more than 45 per cent of the filth generated and added that the AMA could no longer tolerate channelling its revenue into clean-up exercises when there were other equally pressing problems confronting the AMA.
The AMA boss advised residents who had put up structures close to the railway lines that it was dangerous to put up such structures when they were not 80 feet away from the railway lines.
He stated that each time a demolition exercise in the city was to affect residents along the railways, they explained that the Ghana Railway Company permitted them to put up their structures where they were, something Mr Adjiri-Blankson hinted he would verify from the railway company.
"When their claims turn out to be false, I can assure them that come Sunday they would no longer have a safe haven at those dangerous places they claim to be their homes," he added.
Mr Adjiri-Blankson further warned taxi drivers who had taken advantage to convert the large park that was previously occupied by hawkers into a taxi rank to stay clear of the area since it was illegal for them to use the place as a car park, stressing that they would not be spared if they were found there on Sunday.
Story by Sebastian Syme