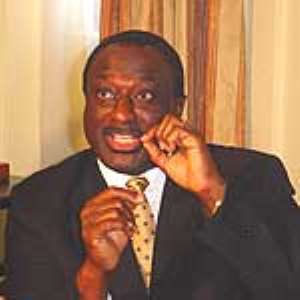 John Alan Kyerematen, former Minster of Trade, Industry and PSIs, on Monday urged New Patriotic Party delegates who would be attending the party's December Congress to elect a candidate professional enough to win nationwide appeal, and not just among party members.
He told a large gathering of cheering fans in Accra who attended the launch of his bid to lead the NPP into elections 2008, that the real battle for the party, would not be a simple matter of selecting a leader to replace President Kufuor, but a visionary leader who must appeal to the masses and also possess a natural inclination to unite the party after congress.
"The real challenge that will confront the delegates at congress in December 2007, will be for them to elect the next president of Ghana, and because of that this is going to be a very difficult exercise."
Likening the 2008 elections to a 'Champion of Champions' football encounter, he said the high profile contest must be engaged in by tested and proven professionals, and the delegates ought to select a candidate good enough to give Ghanaians hope and retain the party in power.
Alan Kyerematen told the gathering that, what Ghana needed most at the moment, was economic independence and he was ready to deliver jobs for the people and create real cash for all.
Mobbed by the enthusiastic crowd branded in T-shirts with his portraits, Alan said if given the mandate, he intended to work around four thematic priority areas to accelerate the growth and development of the country - Industrialisation with emphasis on agriculture, Infrastructure development, ICT and Tourism.