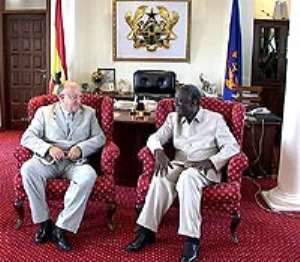 Ghana is to host the second African Cocoa Summit from Monday September 3 to Wednesday September 5, 2007.
The objective of the Summit, which would attract heads of state from Cote d'Ivoire, Nigeria, Sao Tome & Principe, Togo and Uganda, will be to strengthen cooperation among African cocoa producing countries, reinforce international cooperation in cocoa and promote consumption as well as value addition.
Under the theme, "Defining a Policy Roadmap towards a Sustainable African Cocoa Economy", the meeting is also to ensure the efficient use of cocoa towards a sustainable African cocoa economy.
Mr. Isaac Osei, Chief Executive of the COCOBOD, told journalists in Accra that the Summit would also take a close look at the elimination of the worst forms of child labour in the industry.
He explained that it was important for the West to understand African cultural perspectives where children support their family businesses by working on the farms.
Mr. Osei said the case as it was in Ghana, did not fall under the definition of the International Labour Organization's worst forms of child labour, "since these children still go to school, are not in contact with chemicals and do not interfere with their education."
He said 16 countries had been invited for the Accra Summit, which would be preceded by a meeting of Technical Experts from September 3-4, 2007.
Mr. Osei said the Cocoa Producers Alliance (COPAL) would also celebrate COPAL Cocoa Day on October 1, 2007 in Sefwi Wiawso, while the International Cocoa Organisations (ICCO"s) Roundtable on Sustainable World Cocoa Economy is slated for October 3-6, 2007.
The 70th General Assembly of Council of Ministers Meeting of COPAL is also scheduled for October 8-12 2007.
Mr. Osei said COCOBOD was working in concert with the media to educate people in the farming areas of the worst forms of child labour.
Mr. Sonai Ebai, Secretary General of COPAL said "as producers we should work at eliminating the worst forms of child labour in all sectors of the economy."