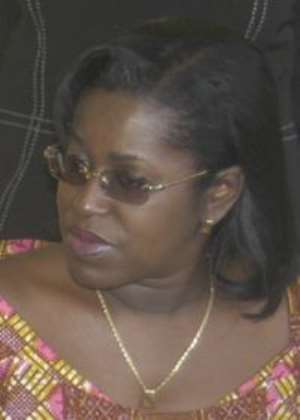 The Minister for Information and National Orientation, Oboshie Sai-Coffie, has expressed grave concern about corporate bodies' unwillingness to offer advertisements to private newspapers, which has negatively affected their growth and prevented them from fully playing their roles in the nation's development agenda.
"We have noted your concerns that you are not getting enough adverts and we know it's affecting you," Mrs Sai-Coffie stated during a visit with her Deputy, Frank Agyekum, and the Government Spokesperson on Infrastructure, Catherine Afeku to the Kokomlemle offices of The Statesman yesterday as part of her unannounced visits to media houses in the country.
According to her, Government sees the partnership of the private media as "very crucial," and disclosed that plans are far advanced to put together a stakeholders' conference which will take on board the concerns of the private media and brainstorm on ways of addressing them.
Asare 'Gabby' Otchere-Darko, Editor-In-Chief of The Statesman, commended the minister's efforts to reach out to the media through her spontaneous calls to their offices, reinforcing the oft-repeated determination to constructively engage the media for the nation's development.
Advertisement
Mr Otchere-Darko further requested Government to work closely with the media and provide it with the necessary infrastructure and funds to smoothen the progress of their work since they also form part of the private sector that Government considers to be the main engine of growth.
This, he said, "is not necessarily spoon-feeding us" but should be seen as an attempt to equip the private media to effectively perform their constitutional role in moving the nation forward.
Frank Agyekum, the Deputy Information Minister, on his part commended The Statesman for "doing a good, professional job."
The minister and her entourage were later given a grand tour of The Statesman.
The Minister also visited the offices of Joy FM, Hitz Radio and Top Radio. They also visited the offices of The Insight, Heritage and the Daily Guide Newspapers.