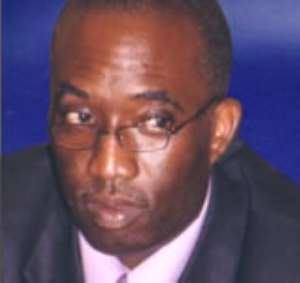 The Attorney-General and Minister of Justice, Mr Joe Ghartey, on Thursday gave a hint of an assets recovery unit under his outfit to effect the confiscation of ill-gotten wealth from criminal elements in the country.
Speaking to the Daily Graphic in Accra, Mr Ghartey cited drug dealers, robbers, economic criminals and others who got their wealth through other illegal means and explained that the unit would operate to strengthen existing laws on forfeiture of illegally acquired properties.
He said the unit would have the responsibility to look at the existing laws in line with modern trends and help to make crime unattractive, adding that "it is important for us as a nation to ensure that crime does not pay".
Some of the existing laws enacted to fight such crimes are Assets Recovery Under the Narcotic Drugs (Control, Enforcement and Sanctions) Laws, 1990 PNDCL 236 and Recovery of Assets Under the Criminal Procedure and other Offences Act, 1990 (Act 30), as well as others which are presently being used by the Serious Fraud Office (SFO).
Illegal property, as defined under Section 62 of PNDCL 236, "is property which is wholly or partly obtained or derived from or by means of any prohibited activity carried out by any person after the commencement of the Narcotic Law on 13th July 1990".
The Criminal Procedure and other Offences Act, 1960 (Act 30) also has a number of provisions which relate to the disposal, forfeiture, restitution and recovery of property or articles regarding which an offence has been committed or found to have been used in the commission of an act.
Mr Ghartey stated that to further strengthen these laws, the unit would, among other things, consider similar laws elsewhere and build on them to help the country in its desire to fight organised crime.
In answer to a question as to how more effective forfeiture of property could prevent crime than imprisonment, the Attorney-General said there were some criminals who looked at imprisonment as "occupational hazard" and until there were measures to deprive them of their illegally acquired property, they would always go back to indulge in crime.
"They believe that even if they go to prison, they would one day come out to enjoy their illegally acquired wealth and, therefore, do not care," he stressed.
Mr Ghartey observed that all over the world, countries were strengthening their laws to enable them to deal with organised crimes instead of just imprisoning such criminals, a move, he said, Ghana could not ignore.
He said it had been proven beyond doubt that imprisoning members of organised crime did not put a stop to their activity unless their empires were broken, which involved seizing their property.
Mr Ghartey said Ghana was looking at laws in other countries, notably the United Kingdom (UK) which, he said, when applied, could help tremendously.
He said in the UK, an assets recovery agency had been put in place to purposely deal with the seizure of assets derived from proceeds of crime and to ensure that crime did not pay.
He said the global trend, which Ghana must learn from, was to make concerted efforts to move against illegally acquired property so that criminal activities did not thrive.
The Attorney-General took the opportunity to appeal to Ghanaians to support the government in its efforts to fight crime since if the people allowed criminals to move on the way they were doing presently, "all of us would be at risk".
Source: Daily Graphic