A farewell to Akosombo Dam?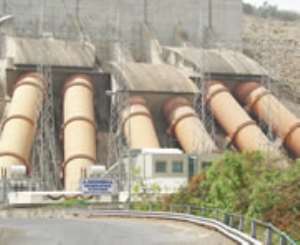 The Public Agenda says unless there is divine intervention, the Akosombo Dam, Ghana's economic heartbeat and most valuable asset will be closed down next week.
This follows the alarming rate of the daily drop in the level of water that turns the turbines to generate electricity for domestic and industrial use.
Kwesi Amoako, the Plant Manager of VRA confirmed on an Accra based radio station that there has been a 0.03ft daily drop in the water level for sometime now, which left the dam with just 235.24 feet as at Wednesday, July 10.
At this level, the water was only strong enough to turn two turbines, which has been the case for almost a year now. The minimum operating level of the dam is 240 feet; below this, the dam is at worse, operating at what Mr. Amoako called "the extreme minimum."
At the current level of 235.24, the dam is operating at its lowest level since 1984, when the water dropped to 235.76. But unlike in 1984 when there was a country wide drought, this time the rains are falling alright, but the inflows are still too low for the dam to operate at full capacity.
The Plant Manager said currently only two turbines are in use during the week days, while one is switched on during weekends with power imports from Cote d'Ivoire to beef it up. He says if the trend continues, the VRA will be compelled to operate one machine, which can generate only 135 megawatts, which could worsen the load shedding.
The Dam, according to the paper, can generate 1,020 megawatts, however it is currently producing a mere 270 megawatts with two turbines. The fear is that if the water level does not improve by next Wednesday, the dam could be shut down. But Mr. Amoako put on a brave face in trying to convince the public that all is well with the dam.
When asked at which point the dam would be shut down he said "until signs indicate that we are overstretching the machines beyond their design limit." He explained that the dam will bounce back by the end of July when the rains are expected to hit the highest point.