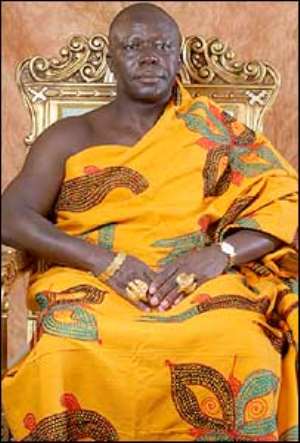 Otumfuo Osei Tutu II, Asantehene, has accepted an invitation to pay a visit to the Island of Seychelles at an appropriate date to be announced soon.
The Seychelles Vice President, Joseph Belmont, who attended the African Union Summit which ended in Accra on Tuesday, announced this when he paid a courtesy call on the Asantehene on Sunday.
He said: "My President has asked me to extend an invitation to you to visit his country at an appropriate date. I have deep feeling to be here even though the moment for me to be here is short."
A statement from the Manhyia Palace said Mr Belmont was met by the sons of the Asantehene (Ahenema) led by Oheneba Adusei Poku, Akyempimhene of Kumasi and ushered in to meet Otumfuo Osei Tutu II.
Mr Belmont said some of Asantehene's descendants were still in Seychelles. He was introduced to Mr. Lewis Prempeh aged 65 and Ms. Molly Prempeh, 55, both surviving descendants.
Otumfuo Osei Tutu II said the visit of the Vice President reminded him of his forefathers who were exiled to Seychelles by the British.
He said in spite of the desire of the Ashantis for an honourable settlement, the British made impossible demands and in the end Nana Prempeh was taken away to Elmina.
The Asantehene recalled that when the British saw that the Ashantis were making inroads to get their King back, they sent him to Sierra Leone and finally to Seychelles where he stayed for about 25 years.
He said when Nana Prempeh returned from exile, Ashantis had profound memories of the Seychelles because he came back as a happy King.
Otumfuo Osei Tutu said: "I keep on reminding the British that we still have bitter memories of the exile."
The Asantehene said he had accepted to visit Seychelles, but this time not as in exile, adding that he would name where his forefathers stayed as Manhyia Palace.
Mr. Belmont presented a book about the development of the Island of Seychelles to Otumfuo the Asantehene.
The Seychelles Vice President was accompanied to the Manhyia Palace by Mr Emmanuel Owusu Ansah, Ashanti Regional Minister.
Source: GNA