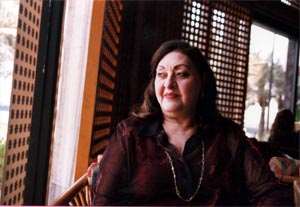 Fathiya Halim Rizk was born in Cairo in 1932 and grew up in wartime Cairo in the suburb of Zeitun, where the family villa still stands.
As a child she remembered the air raids and bombardments — and the foreign troops serving with the British forces that occupied the country then. Her love affair with black Africa burgeoned then.
As a child, mother walked her to and from Notre Dame des Apôtres school, and she often came across some of the occupying forces.
She avoided the European troops at all costs; they were invariably drunk, vulgar and despised the local Egyptians. Early on in life she learned of the oppression of colonialism.
She witnessed the excesses of the brutal colonisers and how they ill-treated her people.
She was a striking young girl with a milky white complexion and long blue-black hair dressed in thick braids that fell to her waist.
Her natural beauty and gregarious nature attracted the attention of the foreign troops. They would chat with her and ignore her classmates, a classmate of hers remembers.
"They simply didn't pay us any attention. Why should they? Your mother was simply the prettiest girl in class."
She, in turn, was especially fond of the black African troops who presented her with sweets and chocolate much to the chagrin of her friends.
As chance would have it, she was later to wed Kwame Nkrumah, the man who was called the "Greatest African" as engraved on his gravestone.
The Ghanaian government of President John Kufuor decreed, with her family's consent, that she be buried next to her husband in his mausoleum in the Ghanaian capital Accra.
It is ironic that she died in the very year that witnessed celebrations marking the 50th anniversary of Ghana's independence.
As a matter of fact, even as my mother and I were preparing to travel to Ghana to participate in the celebrations, she suffered a stroke from which she never recovered.
As a young woman in her 20s, she turned down several offers of marriage. When my father asked for her hand, she did not hesitate.
He represented the struggle against the colonial oppressor. He led his country, the Gold Coast, to independence.
He renamed the West African country Ghana. And, he laid the foundations of an industrial nation, building the Akosombo Dam, thousands of schools and hospitals and a welfare state. G
hana was the first African country south of the Sahara to attain political independence. Those were heady days, and she was to play a pivotal role in cementing ties between Africa north and south of the Sahara.
In spite of my maternal grandmother's initial disapproval, mother went ahead with the marriage. Grandmother was concerned that there was no embassy in Accra, and her worries were conveyed to the former President Gamal Abdel-Nasser.
Mother enjoyed a strong personality. She was fearless and courageous even during the coup d'état that toppled my father's democratically elected government — the first in Africa. She had shown an independence of character from an early age.
In late 1957, mother was summoned by Nasser, after whom I was named, who asked what her wishes were.
He explained what a conjugal union with his friend and fellow anti-colonial fighter entailed. He warned that she was to think seriously about the matter and that the marriage necessitated many sacrifices, duties and responsibilities. She readily agreed.
She travelled to Accra and never looked back. Nasser dispatched an Egyptian ambassador, El-Sayed Nabih Abdel-Hamid, the very first Egyptian envoy to be sent to Ghana. He opened an Egyptian Embassy in Accra.
Less momentous events, but no less significant, also occurred at the time. Mother became embroiled in charitable work and the Ghanaians in appreciation named a version of their traditional kente cloth, the national costume after her.
My paternal grandmother was disturbed when she was told that her son had married a white woman. Father had to explain that even though his bride was light-skinned, she was African.
He stressed that Egypt was an African country that had suffered under the yoke of colonialism.
Indeed, it was the camaraderie of the two presidents — Nkrumah and Nasser — and her marriage to father that symbolised continental African unity.
Mother knew that the personal was the political, she understood instinctively that fearlessness was the key to success.
I shall always remember her dignified figure when in 1964 and again in 1965 she held my father with his blood-stained shirt after two assassination attempts on his life. She calmly sent us children away and attended to my father.
At his funeral in 1972 I remember how her dignified bearing consoled us, her children. She was a constant source of inspiration.
For my siblings (Samia and Sekou) and I, she will always be a symbol of courage and strength. She was a daring revolutionary in her own way. Hers was a compelling life.