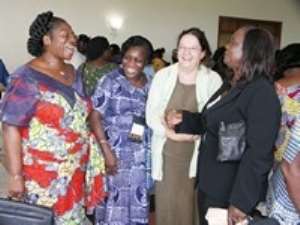 A three-day workshop aimed at equipping assemblywomen in the Upper East Region with the knowledge, skills and expertise on how to participate actively during assembly sittings is underway in Bolgatanga.
The workshop on the theme: "Ghana's Democracy - Women's Participation Vital for Its Sustainability", is being sponsored by Konrand Adenaeur Stiftung (KAS) of Germany.
Speaking at the function, the Deputy Regional Minister, Alhaji Awudu Yiremeah commended the Christian Mothers Association; a Catholic National Women's Organisation for holding the workshop and noted that the contribution of women to the country's socio-economic development could not be over-emphasised.
He said women constituted about 51 per cent of the country's population and yet were denied many opportunities to participate in decision-making.
Government he said had taken cognisance of the hitherto male-dominated political arena and had introduced interventions including the establishment of the Women and Children Affairs Ministry to advance the course women.
Alhaji Yiremeah said the passage of the Domestic Violence Act, the appointment of a female Deputy Inspector-General of Police, a female acting Director of the Commission on Human Rights and Administrative of Justice (CHRAJ), and the recent appointment of a lady Chief Justice as head of the Judiciary were all aimed at empowering women in decision-making.
He urged opinion leaders and development partners in various communities to encourage people to avail themselves of the good policies introduced by the government including the National Youth Employment Programme, Micro Finance and Small Loans Scheme, School Feeding Programme and the Capitation Grant.
The forty-five workshop participants drawn from Northern, Upper East and Upper West Regions would be taken through topics including "Sharing of Election Experiences," "Managing Oneself effectively," "Public Speaking and Presentation Skills", "The Assembly as a System," "Managing Sub-Committees and Working with the Media".