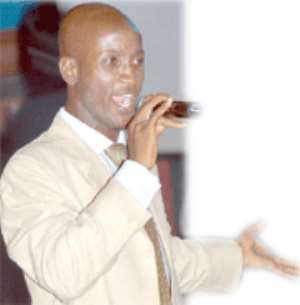 Having placed a close second in last year's Stars of the Future song talent competition, fine singer Ramzy, should have been around to meet the new crop of talented wannabe music stars who are in this year's edition; but he cannot.
Ramzy, real name Prince William Amui, who was arrested early last February for his alleged involvement in armed robbery is still languishing behind bars nearly four months after his arrest.
Last Tuesday, an expected plea for bail by his lawyer could not be heard because the lawyer was not in court when the case was called.
Ramzy's mother, Madam Mary Hammond, was perhaps the most disappointed person at the Tema High Court when the presiding Judge adjourned the hearing of the bail plea indefinitely.
The look of pain and helplessness that passed on Madam Hammond's face was evident of just how anguished she was over watching her son waste away in jail.
Speaking to Showbiz at the court premises about how much pain the whole affair was turning out to be for her, Madam Hammond said that she has not enjoyed good health since her son was arrested.
She reiterated her faith in the innocence of her son and appealed to the conscience of those who knew him before the incident and who have been bad mouthing him to put themselves in his shoes.
"Everyone knows how easy it is for musicians to fall into trouble. Look what happened recently to Daasebre, everyone knew he was innocent and it took a little trust in him for the truth to finally come out. Ramzy needs just such trust at the moment," she said.
Madam Hammond said that she has survived this whole ordeal with some consolation from friends and loved ones but she could not understand why all those who used to present themselves as Ramzy's managers and producers have abandoned him to his fate.
"Sometimes I regret allowing him to go into music against my better judgement. I was not for the idea of Ramzy singing but he showed so much talent and wanted nothing else so I gave in and look where that got us?. That boy does not belong in jail."
Ramzy returned to Ghana after he qualified to take part in the MNET West African Idol competition but his dreams of being an Idol were dashed when he was arrested along with seven others just days before he was scheduled to go back to Nigeria.
He was hit with a provisional charge of armed robbery and remanded in prison custody to await trial.
Ramzy has denied ever being a part of the gang and has said that it was a case of being at the wrong place at the wrong time.
Story by Juno Abena Turkson