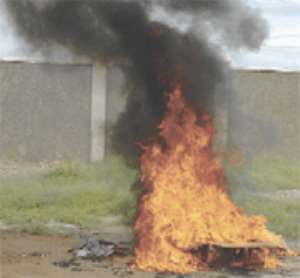 The 25 kilogrammes of cocaine found aboard the MV Benjamin was destroyed yesterday on the orders of an Accra Fast Track High Court.
That was after the prosecution had tendered the 25 slabs of the substance through the police investigator, Inspector Charles Adabah, who continued his evidence-in-chief in the case in which the vessel owner and five crew members are being tried for their roles in the importation of the substance.
To make sure that the substance was cocaine, officials from the Ghana Standards Board (GSB) appeared in court to field-test a sample and declared that it was cocaine, after which sitting was suspended and the court moved to the site where the cocaine was burnt in the presence of the judge, Mr Justice Annin Yeboah, a Court of Appeal judge with additional responsibility as a High Court judge.
Also present were other officials, including those from the Environmental Protection Agency.
The 25 slabs of cocaine were part of 77 slabs which the prosecution say were imported into the country through the MV Benjamin but before the security agencies got wind of its dock at the Tema Port, all but one parcel containing the 25 slabs had been stolen.
Following that, the owner of the vessel, Joseph Kojo Dawson, Pak Bok Sil, a Korean; Isaac Arhin and Philip Bruce Arhin, both Ghanaians, and Cui Xian Li and Luo Yin Xing, both Chinese, who are alleged to have played various roles in the importation of the substance are being tried.
They have been charged with various counts of using a property for narcotic offences, engaging in prohibited business relating to narcotics and possession of narcotic drugs without lawful authority.
Each of them has pleaded not guilty to all the charges and has been remanded in prison custody.
Led in evidence by Mrs Yvonne Atakora Obuobisa, a Senior State Attorney, the police investigator said when he took over the case from his predecessor, the docket, as well as the parcel containing the cocaine, was handed over to him.
He said initially the parcel contained 30 slabs of cocaine, each weighing one kilogramme, but five slabs got missing in the custody of the Narcotics Control Board (NACOB).
After the cocaine was tendered, the judge declared, "Let the exhibits be destroyed in the full view of the court" and subsequently suspended sitting for some time.
On resumption of the court, Inspector Adabah concluded his evidence-in-chief and was cross-examined by Mr D.K. Ameley, counsel for the vessel owner.
Story by Stephen Sah