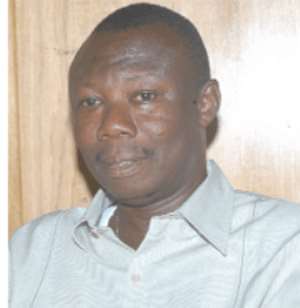 Last week the politicians were all over the place inspecting areas inundated by floods after a few days of heavy rains and, as expected, consoling victims and making promises which will soon become history.
The blame game was, as usual, at its crudest. Politicians who always sound like angels were blaming the building engineers and inspectors of the various metropolitan, municipal and district assemblies (MMDAs) for not being effective, while the latter group was also pointing accusing fingers at estate and private developers for not obeying building regulations and erecting structures in every conceivable space.
Mr Stephen Asamoah-Boateng, the Minister of Local Government, Rural Development and Environment, was reported issuing a threatening warning to building inspectors whose negligence was considered to have caused incidents of flooding in the country.
Suddenly, we all know the cause of the problem, the solution and those who must be sanctioned for bringing such national calamity of huge proportions upon us.
I was particularly amused by Mr Asamoah-Boateng's threat to sack building inspectors who may be found culpable for floods in their areas of jurisdiction. Is it not the same hot air public officials blow into our bleeding wounds when their inefficiency and inaction cause us suffering?
Had the minister been always impressed with the performance of building inspectors and other influential officers of the assemblies whose responsibility it is to ensure sanity in the planning and construction of structures in our cities until these floods took us by surprise?
These floods have been annual rituals, sometimes after the slightest drizzle. That proves that our city and town authorities have always been the same — careless, inactive, ineffective, negligent and sometimes corrupt. So why this threat now? In short, we should have acted long ago if we were to take things more seriously and did better than we are doing now.
The truth is, we are only reaping the results of years of indiscipline and inaction which have creeped into every facet of our national life. We talk a lot when we are confronted with problems such as the floods which have engulfed many parts of Accra and other places in the country, only to recoil as soon as the sun soaks the flood waters away.
We have some of the best hydrologists, water and civil engineers, town planners and other allied experts those professions could boast of. We have, however, ignored them or failed to take their advice, for whatever reason.
Instead, planning and building regulations have been flouted with impunity and structures have sprouted at any empty space in our cities and towns, not necessarily on the blind side of the city authorities.
All our waterways have been choked with buildings which serve like dams anytime it rains, causing heavy flooding in the towns. Our poorly designed and constructed drains are reeling under garbage which block the free flow of water during heavy rains.
Areas which have been declared green zones or recreational grounds have been encroached upon, most often with the connivance of public officers. Such officers have escaped sanction because those who should apply the law are themselves guilty because a lot of them have used their influence to help friends, relatives and political sympathisers to build where they should not have.
I have seen "STOP WORK, PRODUCE PERMIT" on a lot of buildings in Accra and other places. Most often, work never stops, not because a permit has been produced or the building is located on an approved site.
The usual philosophy of "man must live" always holds sway and with the exchange of a black plastic bag or its equivalent, a waterway becomes a residential area.
Those corrupt officials may go and enjoy their ill-gotten booty but when the rains come it is not only the house owners who suffer but the whole community, including those who have done the right thing by all statutory requirements.
Accra has become a big flood-prone zone because over the years several residential areas have developed without proper layout and officers who should ensure that the right thing is done will tell you that they have been frustrated in their work by politicians and other powerful persons who should know better.
The best person to be held accountable for such lapses should be the minister himself who has been vested with state power and supported with resources to ensure that Ghanaians get what they deserve.
Elsewhere, ministers lose their jobs because a department or an individual officer had not performed well.
Sierra Leone's Transport Minister, Prince Harding, was not piloting the helicopter which crashed last weekend, killing 22 people, including Togo's Sports Minister, Richard Attipoe, but he has been suspended and is under investigation.
Our ministers and other top government officials should not only embrace whole-heartedly the good things that go with their offices; they must also be alive to their responsibilities and suffer the consequences when they fail to deliver.
That is the only way to end the rhetoric which has filled our ears from those who are supposed to be our leaders and for whom we make so much sacrifices.
Sometimes some people stay in office for so long that one begins to wonder whether they were there for their efficiency or for sheer political expediency. We must begin to demand accountability from our leaders. There is no need for political fanaticism here because their failure brings damnation not to any particular persons but to the whole country.
The annual ritual of wading through flood waters, saying words of comfort and sermonising about future plans to avoid the recurrence of such calamities should give way to lasting solutions.
We have building regulations which must be enforced. Our town planners, engineers and building inspectors must wake up. There is no excuse to allow buildings to reach lintel level before inscribing that amorphous notice of "STOP WORK" on it — an inscription which never serves any useful purpose, any way.
City authorities must be firm, bold and do the right thing without fear or favour. That new invention by politicians: "Giving a law or directive a human face" should only be seen as a diversionary measure to run away from responsibility and must, therefore, be isolated and abandoned.
These are the same politicians who threaten ordinary public servants with hell and brimstone when their recklessness and favouritism bring damnation to the whole nation.
We should not continue to behave like the ostrich which buries its head in the sand and thinks everything is over.
Article by Kofi Akordor