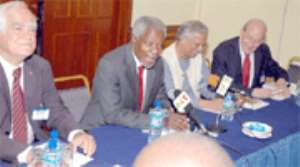 The former Secretary-General of the United Nations (UN), Mr Kofi Annan, has called on the G-8 countries to come out with a time table for the disbursement of the $60 billion they pledged to support Africa at the just-ended G-8 summit in Germany.
He said the time table would help African countries to plan and use the funds efficiently to combat malaria and HIV/AIDS for which the amount was pledged.
Mr Annan, who is currently Chairman of Africa Progress Panel (APP), an independent body formed to monitor commitments towards Africa, said at a press briefing in Accra yesterday that the partnership between donors and developing countries ought to be based on mutual accountability.
He said the donor countries had called on African countries to ensure good governance and eradication of corruption in exchange for funds and the cancellation of debts.
Mr Annan commended the G-8 for their renewed support for Africa's development at its summit at Helligendamm since most African countries were making progress on good governance.
He, however, said much still needed to be done if the G-8 was to deliver on its commitment to support Africa to achieve the Millennium Development Goals (MDGs) and sustainable development.
Mr Annan said while considerable progress had been made on debt relief, progress on trade negotiations was still urgently needed.
He said the panel expected that the G-8 would make every effort to ensure the success of the Doha negotiations along the lines of the G-8's own pledges at Gleneagles and Helligendamm.
He said it was vital that the G-8 invested in practical terms in its development partnership with Africa at a time when opportunity and appetite for change on the continent was high.
Mr Annan said the APP was committed to working with the G-8 and a broad range of development partners to increase their efforts to keep the commitments made to Africa.
Mr Michel Camdessus, former Director-General of the International Monetary Fund (IMF) and a member of APP, said the independent body was formed in April, this year when the need arose for a body to analyse all the pledges made to Africa and to find solutions to obstacles preventing their implementation.
He said the body, which was independent, was not answerable to any government when it came to making its findings public.
Mr Peter Eigen of Transparency International, who is also a member of APP, said APP would also lobby Western countries to make it an offence for European companies to bribe African countries when bidding for contracts.
He said it smacked of double standards for European countries to make bribery an offence in their own countries while they allowed their companies to bribe officials in developing countries.
Mr Eigen said systemic corruption on the continent did not augur well for good governance, which donors were attempting to use as one of their conditions to grant funds to Africa.
Mr Mohammed Yunus, a Bangladeshi Economist and Nobel Peace Price laureate as well as a member of APP, said if Bangladeshi women had shown progress in eradicating poverty with the small micro-credit, African women could do better because they were active and more hardworking.
Story by Abdul Aziz