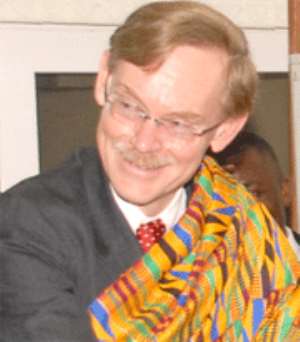 The United States nominee to head the World Bank, Mr Robert Zoellick, said at the weekend that if he was confirmed, he would continue outgoing bank president, Paul Wolfowitz's, "focus on Africa programme."
"I definitely hope to continue his focus on Africa and African development programme", in the areas of project loans, structural reforms, macro-economic support, health, fighting poverty and child mortality, empowering women and helping those coming out of conflicts, he told reporters in Pretoria, the final leg of his three-nation African tour.
"I think and I hope that the World Bank can develop a stronger partnership with African countries to assist and support them in their strategies for development and growth ... one needs to be specific on challenges in each state," he said.
During his African tour, Mr Zoellick, who arrived in South Africa last Friday, said that he met African finance and trade ministers, economic and political leaders as well as non-governmental organisations.
The purpose of this African tour was to have consultations, share experience and exchange ideas to enhance his tenure of office if approved by the World Bank's 24-member board of governors.
"The prime purpose of the visit is to come to Africa, to listen, to learn and to consult," he said.
He said that "there is a strong sense of possibility for partnership with African countries with a sense of mutual respect and accountability".
"One of the things that is striking about dealing with sub-Saharan Africa now is that ... the new generation of leaders are taking the sense of responsibility for their countries (in areas of) growth and wealth-generation, overcoming poverty, jobs creation," he said.
Mr Zoellick said that he also discussed with officials energy problems, development of financial markets, trade, accountability, corruption, transparency, debt relief, climate change, poverty, HIV- AIDS and other diseases, democracy, investment, telecommunications, education, human resources, agriculture and infrastructure.
After Ghana, Ethiopia and South Africa, he is scheduled to visit Britain, France, Belgium, Germany, Norway, Mexico and Brazil before returning to the United States on June 19, he said.
During his visit to Ghana Mr Zoellick called on Vice President Aliu Mahama and the captains of the country's financial and economic sectors.
At the meeting, the Vice President called on the president-designate to increase its support for African countries.
He said the bank should take a second look at regional development assistance and provide help that would link African countries in such areas as energy, railway and communication.
The Vice-President said the inadequate assistance compelled Ghana and other developing countries to resort to the capital market.
He appealed to him to champion the fight to reduce poverty and diseases, including HIV/AIDS in Africa.
Mr Zoellick, for his part, said unless Africans themselves took charge of their development, progress would elude them.
He said Ghana was on track to achieving the Millennium Development Goals (MDGs).
US President George W. Bush nominated Robert Zoellick, a former Deputy Secretary of State, as a replacement for Mr Paul Wolfowitz, who steps down on June 30, this year.
Mr Zoellick was chief aide to Condoleezza Rice from February, 2005 to June last year.
He is also an ex-US trade representative and is currently an executive at the investment bank, Goldman Sachs.
Mr Zoellick's choice has been praised by the new French government. — Credit AFP