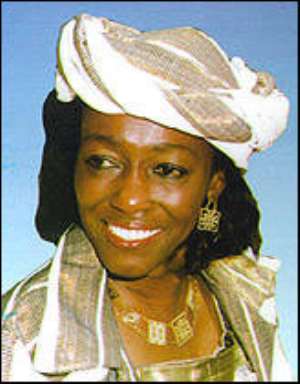 Former first lady, Nana Konadu Agyemang-Rawlings, who is facing serial charges of financial crimes, plans to lead a street protest to coincide with the high profile African Union Summit which takes place in Accra, beginning July 1.
But, Kweku Baako Jnr, who spoke from South Africa at the weekend described it "as the biggest joke ever told to Ghanaians outside of the National Theatre in recent years."
Mrs Rawlings said at Ho last week that the demonstration will take place on the eve of the summit, with the hope that it would dominate the headlines on the day (Republic Day), when the heads of state hold their first meeting.
But, a publisher predicts with his usual scorn, "Even if she gets the all-clear by the police it would be as eventful as her husband's scheduled interview with Kwami Sefa-Kayi," of Peace FM, which was incidentally aborted due to technical problems.
"The only way she can win the attention of the international community that day is if she literally strips naked, with Ama Benyiwa Doe and Sherry Aryittey in tow and walk boldly through the capital"s principal streets.
As the move in the streets, they should also revive and chant their revolutionary tune 'We no go sit down make them cheat us everyday.'
That would be a spectacle worth watching. We could do with such pre-summit entertainment, however explicit."
Mr Baako, who in 2001/2002, made a public announcement to 'strip Mrs Rawlings naked' by exposing her alleged cases of corruption, says "Africa has more serious issues o tackle in Accra in July than to waste it's time on the eccentricity and self-preserving antics of a former first lady who is empty of focus yet full of vindictiveness."
He adds, "My advice to her is[to] concentrate on dealing with her cases before the law courts. She has filed two cases in court against Government but resents the state doing same against her, however legitimate."
The government is expected to open its defence in one of the civil actions brought against it by Mrs Rawlings.
Mr Baako, known as 'Diablo' for his noted diabolic takes on the former first couple, says, "It is X-rated balderdash for the wife of Chairman Rawlings to give notice that she is going on a demonstration to highlight atrocities against Ghanaian women.
Someone has to remind her that she can't extend her own self-inflicted battles at a legitimate court of jurisdiction to become the collective problems of Ghanaian women. When she was getting her husband's government agency to sell off state properties to her interests, did she call for solidarity?"
Mr Baako, who returns home Wednesday from a conference on journalism in Cape Town, is of the opinion that Mr and Mr Rawlings "combine to constitute the biggest political fraud ever visited on Ghanaians. They are happy to practice on other people what they preach.
Yet they cry foul when their own professed principles of June 4 - probity and accountability – are visited upon them. For her information, the era of kangaroo court is over and buried. She should demonstrate her innocence in court not by her X-rated antics on the streets. If she has any decency left, she would at least treat Ghanaians' collective integrity with some respect. She should not insult us."
Earlier in the Saturday Statesman, Samuel "Abu" Jinapor Abdulai, the spokesman for Committee for the Advancement of Patriotism, reacted with disbelief, calling Mrs Rawlings a "shameless, selfish, two-faced being who thinks there should be one law of blanket immunity for the Rawlingses and another law for the rest of Ghanaians."
The former first lady and President of the 31st December Movement told a gathering last week that her planned march is a demonstration against "atrocity on women in the country."
But, in an interview with the Saturday Statesman, Abu, 24, expressed the opinion that "the demonstration would have been a laudable idea if it was made to coincide with the marking of June 4 as a solemn remembrance of the hundreds of Ghanaian women who were brutalised under her husband's military regimes for the mere 'crime' of being entrepreneurial."
Abu added, "Was she not beside her husband when market women, including mothers like herself, were stripped naked in broad daylight by so-called revolutionaries, who inserted spices in their victims' private parts and whipped them till they wept and bled?"
Abu, who has been obviously incensed by what he calls "an unforgivable impunity by she-who-at-one-time-must-be -obeyed," reminds Ghanaians that "The people who were killed under she and her husband's leadership for example, for taking loans from the banks were not even offered an opportunity of a fair trial to tell their side of the story.
People were arrested, tortured, convicted and sentenced to 50 years and more by a kangaroo court presided over by men hiding behind screens.
"In spite of all this, she can still join her husband and their bootlickers on a platform to celebrate June 4.
The irony is that she has even named her NGO after one of the two most bloodiest military regimes this country has ever known. Is that not tantamount to celebrating atrocities against people of this country?" remarks Abu.
He is urging Ghanaian women to ignore the "disrespectful and shameful struggle by this hypocritical excuse of a gender activist to court them for undeserving solidarity. When she was busily ensuring that state-owned properties were being cheaply sold off to her interests, where then was the solidarity?
When she was educating her children at that exclusive and expensive GIS after reducing the rest of us to that failed JSS experiment, was she then showing solidarity to Ghanaian women and their children?
When she educated all four of her children in Europe at an estimated cost of at least half a million dollars, was she by that touching base with the women who had been subjected to atrocities in this country for simply trying to make ends meet?"
While he maintains he is not, for now, interested in discussing the details of the charges against the former first lady, Abu is quick to stress that "she can be thankful that her prosecution is being pursued strictly between the four walls of rule of law and due process.
How the thousands of victims under the AFRC/PDNC regimes would have wished they too were privileged enough to at least be given a fair trial and under this kind of environment."