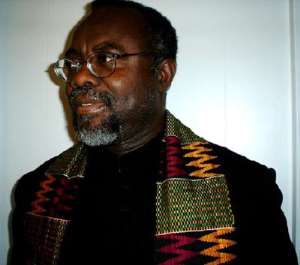 I have briefly followed the ruckus surrounding the so-called In-Out-Out-Out student residential policy regimen introduced by the administrators of the University of Ghana. I have even written an article aptly attributing the current residential mess to the ignoble and outright boorish nonchalance of past Ghanaian leaders, particularly the largely anti-intellectual capos of the military juntas that have blighted and scourged our postcolonial Ghanaian political landscape.
Interestingly, however, the man who is often credited with having done more than anyone else to boost postcolonial Ghanaian education, both in material and cultural terms, was hardly the sort of idealized progressive leader that many of us, especially those of us born in the postcolonial era, have been made to believe. One only needs to conduct a cursory study on the political climate which prevailed under the tenure of the so-called Convention People's Party (CPP), particularly, with regard to calculated and persistent harassment of professors, vice-chancellors and university students whom the CPP deemed to be its inveterate ideological opponents, and the picture that would emerge is hardly likely to be any better than a veritable eyesore, as it were. What of, for instance, the bitter public exchanges between President Nkrumah and the University of Ghana's firebrand Vice-Chancellor, Dr. Connor Cruise O'Brien?
Indeed, it is an inescapable fact that the "African Show Boy" did remarkably increase the spatial facilities for modern Ghanaian education, but the critical question that is often ignored in the rhetorical fare of Nkrumah supporters and sympathizers regards the salutary concept of "Academic Freedom," without which constructive pursuance one might just as well as pride oneself in one's Stygian illiteracy. In sum, in qualitative terms, Ghanaian education under the CPP could scarcely be favorably compared to that which the likes of Drs. Danquah and Busia and, yes, even Mr. Kwame Nkrumah, experienced at the various teacher-training colleges, Achimota, and even at the primary and secondary levels.
Thus it is quite curious when Mr. Benjamin Akyena-Brantuo, the Legon student leader who has made himself the poster-boy of anti-establishment vis-à-vis the so-called In-Out-Out-Out campus residential policy, asserts that: "The peace and unity Ghanaians enjoy today in contrast to the chaos in some West African countries[,] could not have been possible without the forward[-]looking policy of Nkrumah to ensure that anyone[,] irrespective of [their] background[,] have an opportunity to develop their potential" (Ghanaweb.com 6/9/07).
Exactly what does Mr. Akyena-Brantuo mean by the preceding quote? For instance, is this evidently proud graduate of the University of Ghana implying that before Mr. Kwame Nkrumah arrived on the Ghanaian political landscape, there were no schools and colleges that pursued the salutary and "forward-looking" policy of ethnic and residential diversity, including the University of Ghana, the veritable brainchild of the immortalized Dr. J. B. Danquah? (See the University of Ghana's Bulletin or College Catalog).
And would Mr. Akyena-Brantuo hedge his bet against the stark historical fact that when the future President Nkrumah attended both the Accra Teacher-Training College and Achimota College, these British-colonial institutions were totally mono-ethnic, with only Nzemas in attendance, until the "Show Boy" returned to Ghana from the United States and Britain to rectify such invidious anomaly?
In other words, I guess what yours truly is trying to say is simply thus: "Just what kind of academic poppycock is being fed our youth, particularly in the critical epistemic realm of historiography, in our dear nation's mainstream academies these days?"
And just exactly how was the political climate in pre-Nkrumah Ghana, such as to have knighted the "African Show Boy" as the "prime inventor" of postcolonial Ghanaian "peace and unity," without which our dear country which, by the way, was christened by Dr. Danquah, would have lapsed into "pristine" or "Stygian" chaos as evidently prevails "in some West African countries," both economically and politically?
Indeed, if I were in Professor C. N. B. Tagoe's position as Vice-Chancellor of the University of Ghana, I would definitely and promptly ensure that Mr. Benjamin Akyena-Brantua was held back until the recent Legon graduate thoroughly acquainted himself with the rudiments of twentieth-century Ghanaian history, particularly that aspect which regards the creation and development of postcolonial Ghana. Alas, with ignorant and insufferably arrogant "student leaders" like Mr. Akyena-Brantuo, what meaningful future can Ghanaians expect?
*Kwame Okoampa-Ahoofe, Jr., Ph.D., teaches English and Journalism at Nassau Community College of the State University of New York, Garden City. He is the author of "Dr. J. B. Danquah: Architect of Modern Ghana" (iUniverse.com, 2005). E-mail: [email protected]