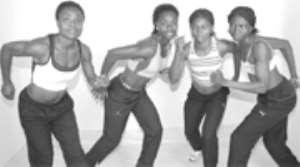 Ghana's female sprint relay team has stepped up its preparations for the All Africa Games with a busy schedule of competitions in Europe.
The team which won gold at last year's African Athletics Championships are at the moment in Holland fervently preparing to claim the gold at the All Africa Games to be held in Algiers next month.
Three members of the team, Gifty Addy, Elizabeth Amolofo and Rosina Amenebede, sponsored by Graphic Communications Group, have joined Esther Dankwa who is based in Holland, to intensify their training which has so far been a successful one.
From their base, the ladies have vowed to set a new record at the All Africa Games as they begin their countdown to the Algiers event with competitions in Europe.
This weekend as they go into action again in Rotterdam, the ladies are not only poised to win the event but are looking forward to improve their winning time.
The team, so far without Africa's sprint queen, Vida Anim, have been consistent in their performance and believes the arrival of Anim will complete their preparations and keep their dream on course.
They first won their maiden outing at the Ter Specke Bokaal Meet in Netherlands with a time of 46.08 secs and followed it with another win at the Run For Help Meet in Bremen, Germany, with another good time of 45.04 secs.
In Hengelo, the team then joined by Anim, managed a second place with a time of 45.09secs.
While preparing for the relays, they are also training for their individual events with Amolofo, Dankwah and Addy training for the 100m and 200m events.
Rosina Amenebede, also a sprinter, has now been advised by the Dutch trainers to concentrate on the hurdles and long jump as she has shown great potential in those events.
She has thus been made the reserve runner of the relay team as she steps up her training for hurdles and long jump.
Meanwhile, defending heptathle champion, Margaret Simpson-Senya, continued her comeback preparations with another good showing in Italy earlier in the week.
Coming up against the Olympic, World and European champions, Simpson-Senya finished second in the Roma event and the Circuit team moves to Belgium this weekend as the hepathletes step up their preparations for the athletics season.
Story by Rosalind Amoh