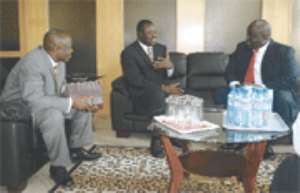 Barclays Bank Ghana Limited is embarking on a well-structured but rapid expansion programme following the favourable economic climate in the country.
Consequently, the bank is to open 17 more branches throughout the country by the end of the year, a development which is in line with its vision to become the leading contributor to Ghana's economic growth.
The Executive Director, Corporate Banking, of Barclays, Mr Kofi Adomakoh, announced this during discussions with Mr Ibrahim Awal, the Managing Director of the Graphic Communications Group Ltd (GCGL) in Accra.
The new branches will increase the bank's network by 50 per cent from 34 to 51 and it is expected that the total number of branches will hit 68 by the end of 2009.
Mr Adomakoh said the macro-economic environment today made it favourable to widen the bank's customer base across all segments, adding that the expansion programme would be vigorously pursued between now and 2009 to take advantage of the opportunities in the national economy, as the market trend indicated that there was much demand for more branches and the introduction of more products.
"The indicators point to a highly-favourable economic climate which makes it possible for businesses to flourish through long-term planning," he said.
He also announced that the bank was actively supporting the development and modernisation of the tourism industry, notably in the expansion of facilities, as well as human resource development.
Mr Awal commended the bank for its initiative and said the GCGL was prepared to collaborate with it to make its business and financial pages more relevant to the business community.
That, he said, was in fulfilment of the GCGL's policy of using its flagship, the Daily Graphic, to make the country an attractive investment destination in the West African sub-region.
The two organisations agreed after discussions to collaborate in three key areas — training for and capacity building of the Daily Graphic's financial reporters, both locally and abroad, joint social responsibility programmes and the development of business relationships.
Under the collaborative programme, financial reporters of the Daily Graphic would be sponsored to undertake such specialised courses as banking, manufacturing, mining and other programmes to help improve on the contents of the business and financial pages of the newspaper.
The two representatives further agreed to set up a technical committee to work out the details for immediate implementation.
Mr Adomakoh was accompanied by Mr Mathias Dorfe, Head of Vehicle and Asset Finance of the bank, while the GCGL team included Mr Yaw Boadu-Ayeboafoh, Editor of the Daily Graphic, who is also the acting General Manager, Newspapers; Mr K. Baah-Adade, General Manager, Finance, and Mr Albert Sam, the Public Affairs Manager.
Story by Albert Sam