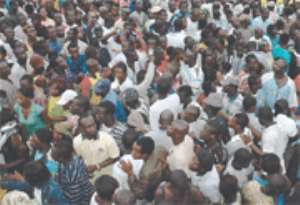 The cloud of uncertainty which had hitherto hung over the Odadao rites (the lifting of the ban on drumming and noise making) by the chiefs and people of Gbese passed off peacefully yesterday amidst heavy security.
The colourful ceremony attracted hundreds of anxious youth, elderly men and women of Ga Mashie clamouring for space to see what they described as "the real Odadao and the best of Ga culture". It was characterised by joy, fanfare and unity of purpose.
The ceremonial drum beating was immediately followed by showers of rain, an occurrence which the people hailed as God's acceptance of the ceremony and the blessings which they expected to follow before and after the Homowo Festival.
At about 3:50 p.m. when the Regent of Gbese, Nii Tetteh Ahinakwah II, who, by a Supreme Court ruling, was given the right to perform the ceremony, pounded the giant drums, said to be 45 years old, under the Odadao tree, the arena erupted to thunderous and spontaneous applause, with shouts of "Eei Nii oo! Eei Nii!", literally meaning "This is the King, this is the King". He was assisted by the acting Gbese Akwashongtse, Nii Armah Quaye.
The atmosphere after that was ecstatic and enthusiastic as thousands of the youth went on a picnic, singing and dancing to traditional Ga songs, expressing their freedom to now party after a month-long ban on noise making.
Some, unable to find space in the crowded arena, watched the event from building tops and through windows.
The Gbese Mantse, Nii Ayi Bonte II, clad in a white apparel, stepped out majestically into the crowd to acknowledge the people present by waving his hands in the air.
Some elderly women, all dressed in white, played ampe (a game mostly played by girls) in their moment of joy as others took to the floor to dance to the traditional tunes.
The Sakumo Wulomo, Numo Ogbamey III, and a representative of the Nai Wulomo performed libation asking for God's blessings for the ceremony and the people of the Ga State.
Earlier, at about 2:30 p.m., the Gbese Mantse, the Gbese Dzaasetse, Nii Okai Kasablofo IV, and elders of the various houses under the Gbese Stool moved in a procession into the Gbese Palace where they performed some rites.
In the prevailing peace, the heavy security at Gbese and its surrounding areas did not have any need for the tear gas and rubber bullets which were in abundant use the previous day.
Yesterday's ceremony was the second, with the first being performed by the Ga Mantse, King Tackie Tawiah III, at Mogyawe on Wednesday.
Storyby Naa Lamiley Bentil
& Maria Alberta Viala