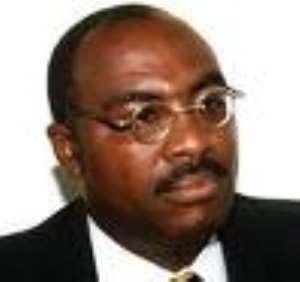 presidential aspirant of the New Patriotic Party (NPP), Papa Owusu-Ankomah, has stated that in an unlikely defeat at the primaries of the party, he would throw his weight behind any other aspirant who emerged victorious.
"I, however, doubt that I will lose because my message, coupled with the support from the potential delegates has gone down well such that there is no way I will not carry the day; but that does not mean I am going to rest on my laurels as the next six months would see the intensification of my campaign", he said.
He said the overwhelming support he had received from delegates in the eight regions he has visited so far, clearly tells him that he was the next person to lead the NPP after President J.A. Kufuor.
The regions are Western, Central, Ashanti, Greater Accra, Brong-Ahafo, Eastern, Volta and the Upper West.
Papa Owusu Ankomah, who is also the Minister of Education, Youth and Sports, was speaking during a tour of the Upper West Region.
He inspected facilities at the Wa Campus of the University for Development Studies (UDS), the Wa Polytechnic, the magnificent Jubilee Park and the Wa Sports Stadium.
He stressed the need for the NPP to be reformed to meet the aspirations of its members and said this could be done only through the transformation of leadership.
"The party as a political organisation should have training skills for its full-time political workers for them to competently handle the affairs of the party", he added.
Mr Owusu-Ankomah said if he was given the nod, he would bridge the gap between the government and the party, pointing out that the country needed a leader who could combine the experience of the older generation with that of the youth.
He described himself as a product of the NPP, having served the party diligently and faithfully in the Western and Central regions.
"If now the two regions are no more the strongholds of the National Democratic Congress then I can confidently say that I was part of this achievement," said the 49-year-old aspirant.
The NPP presidential aspirant said the party needed to build upon its leadership, which after the exit of President Kufuor should be able to identify about 10 people in each region to be monitored and groomed for leadership positions.
Mr Owusu-Ankomah denied being ambitious and said he was in the race for the sake of the NPP and Ghana as a whole.
At the Jubilee Park, he said he was impressed with the beautiful edifice, which was constructed recently to commemorate the country's 50th independence anniversary.