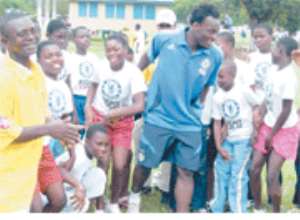 Children love to play with their idols. However such an opportunity hardly comes their way.
Therefore, when children from the Police Education Unit and the Ayawaso Sub-Metro schools were invited by the Chelsea Right to Play Partnership to play with Ghana's seasoned footballer, Michael Essien it was a day full of excitment, dancing and photo shooting for even teachers and coaches.
As early as 7:00 am on Saturday, 200 children all spotting Chelsea Right to Play 'T' shirts had lined up beautifully to play with the junior team of Chelsea and 30 selected coaches.
The children were introduced to exciting but educative games like fruit salad, colour game, hope hope joy, blue peace ball and elephant ball.
All the games were specifically designed to support the development of children and also used as tools for HIV and AIDS education and prevention.
Apart from the schoolchildren in Accra, those in Tamale also had an equal opportunity to play with Essien last Thursday.
Essien who plays with Chelsea FC in the United Kingdom did not come to Ghana alone. He came together with Chelsea's Manager Jose Mourinho who has won the hearts of many Ghanaians with his coaching skills.
The Chelsea Right to Play partnership is an exclusive deal with the football club and aims at raising over £2 million over six years. The funding generated will support Right to Play's (RTP) extensive humanitarian operations in 22 countries in Asia, Africa and the Middle East.
Essien, Frank Lampard, Joe Cole and Salomon Kalou have all agreed to be Chelsea Ambassadors for RTP.
At the end of the fun games, Chelsea presented $15,000 for the refurbishment of the Efua Sutherland Children's Park in Accra.
Story by Hadiza Nuhhu-Billa