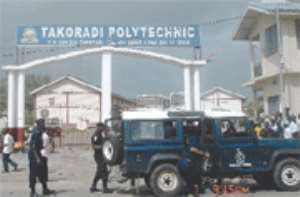 The Ghana National Union of Polytechnic Students (GNUPS) has accused the police of acting unprofessionally in the recent impasse between the management and students of the Takoradi Polytechnic.
"Let me state here that the haphazard firing of tear gas and rubber bullets was done by the police following the instruction of the Procurement Officer of the Takoradi Polytechnic, Mr Stephen Amermu," a GNUPS spokesman alleged.
Addressing journalists in Accra yesterday, acting GNUPS President of, Mr Paul Obeng Atiemo, insisted that the firing of tear gas and rubber bullets by the police upon the instruction of a "civilian who was not their commander is seen by the leadership of the union as ridiculous and the highest form of unprofessionalism on the part of the police in Takoradi".
He said the police did not act in the line with their duty by ensuring peace and order in the school and should, therefore, be questioned.
According to him, students planned to boycott academic activities peacefully in order to register their displeasure at the attitude of the Principal, Dr Samuel Obeng Apori, among other concerns.
He explained that the decision for the boycott did not warrant any attack on students by the police but unfortunately, "the police were deployed to the campus upon anticipation that there would be chaos. However, they manhandled the students, abused and detained some of them, as well as the national executive members of the union".
Mr Atiemo said the police, after firing the tear gas, did not leave the students but chased them to their various hostels and beat them up and even other private residents within the vicinity of "New Site".
"The tear gas, which was fired into the rooms of the students and other residents in the area, resulted in the death of a one-year-old baby," he claimed.
The acting president, who is also the secretary, said the rights of the students should be respected by the management and their grievances attended to.
On behalf of GNUPS, he reiterated the call for the resignation of the principal as he was not serving the interest of the entire students.
Mr Atiemo also demanded that the management should transfer all funds received on behalf of the Students Representative Council (SRC) into the SRC's accounts as stated in the SRC Constitution and the Polytechnic Statutes.
He called on the management to accept the fact that GNUPS was recognised as the official mouthpiece of all the 10 polytechnics in the country.
Story by Maria Alberta Viala