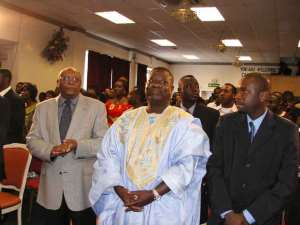 "Could have fooled me," goes the popular American saying; and it must just as well have been composed to describe the flighty mental state of the twice-defeated presidential candidate of the so-called National Democratic Congress (NDC) these days. On Monday, June 4, 2007, Professor John Evans Atta Mills was reported to have been with his boss and neo-slave-master, Flt.-Lt. Jeremiah John Rawlings, celebrating the bloodiest military intervention in post-colonial Ghanaian politics. Needless to say, scarcely three years after June 4, 1979, Flt.-Lt. Rawlings would oust the democratically elected government of Dr. Hilla Limann and his People's National Party (PNP), an Nkrumah-leaning political party.
That Professor Mills, who claims to be a staunch subscriber of Nkrumaism, as well as having been a youthful recruit of the senior branch of the infamous Young Pioneer Movement (YPM), would slavishly follow the man who callously chucked the dreams of ideological Nkrumaists to the dogs, literally speaking, to Somanya, in the Krobo district of Ghana's Eastern Region, bespeaks tons about how principled and democratically-minded the former Legon Law School professor could be.
Interestingly, just the week before lap-dogging Mr. Rawlings to Somanya, Professor Mills, at least according to a press release generated by his campaign machinery, had toured some Accra communities and schools declaiming with the demented enthusiasm of a grade-school truant thusly: "I know for a fact that Ghanaians would give me the chance to become their next president."
Curiously, however, the press release did not explain why the same Ghanaian electorate had twice refused to offer Professor Mills the mandate to, literally, walk roughshod over them, just as his boss, Mr. Rawlings, had done for some nineteen hellish years.
The press release theatrically gushed: "The former Vice-President, who is known to exude humility in his approach to politicking, told his captive audience that it is very obvious that Ghanaians are currently up to their brow[sic] with the gross[sic] inefficient rule of Kufuor and his NPP government and that come December 2008, there is no way [that] he [i.e. Professor Mills] and the NDC would not be given the mandate to restore hope to the people of Ghana" (Ghanaweb.com 6/5/07).
It could, indeed, be that Professor Mills was talking about the people of Ouagadougou, Burkina Faso. And needless to say, his being offered the people's mandate could only come to pass if Mr. Blaise Campaore decided to invite a congenital political loser over for dinner and some serious talking to, or cautionary advice, for that is exactly the kind of medicine the perennial and terminal NDC Presidential Candidate needs to regain his sanity. And we have absolutely no doubt in our minds that Mr. Campaore would be generous enough to warn Professor Mills that if, indeed, the latter harbors any lunatic designs bordering on forcing his way into the Osu Castle, in spite of his unprincipled and undemocratic self, come January 2009, the sucker had better shelf it in perpetuity!
For, it goes without saying, that the only way by which an Atta-Mills Administration could be installed in Ghana would be for Professor Mills and his boss, Togbui Agbotui Rawlings, to launch a full-scale civil war on the country. And should the latter, indeed, come to pass, these "gentlemen" had better make prior arrangements with the Libyan Air Force to lift them out of the country about as fast as it takes Professor Mills to say "Master Rawlings!"
Rather interestingly, in the above quote from his press release, Professor Mills does not explain just what the former Legon Law School lecturer means by "the gross[ly] inefficient rule of Kufuor and his NPP government" which, paradoxically, galvanized the Ghanaian electorate into ensuring that Professor Mills would twice lose its mandate for the presidency.
And, indeed, so power-drunkenly brazen is the man, his much-touted canine-humility and all notwithstanding, that Professor Mills reportedly told some teachers: "I am a teacher just like you and I know the sacrifices that you are making to give the future generation a solid educational foundation and I can assure you that a Mills government would not keep teachers out of the classrooms for months un-end[sic] because of an obstinate approach to dealing with your concerns."
If, so, then where, indeed, was "Professor Humility" when Mr. Rawlings was busy shuttering our universities and polytechnics and blithely siccing mineworkers and hoodlums on the same "future generation" whom Professor Mills supposedly offered "a solid educational foundation"? And just what caused "Professor Humility" to leave his teaching job in order to tug at the coattails of Mr. Rawlings if, indeed, Candidate Mills has such a high opinion of the teaching profession? And, also, just how often were teachers paid their salaries and wages on schedule during the Rawlings-Mills Administration? Or is it simply one of those bad jokes when his supporters and sympathizers claim that "Professor Humility" was a very good educator?
One thing, however, at the end of the day, as it were, is quite clear: Professor Mills would be far better off tugging at Mr. Rawlings' coattails and perpetually celebrating June 4th and December 31st with Togbui Agbotui and leave the longsuffering Ghanaian electorate to pursue their dreams and aspirations as best as they know how. Else, come December 2008, Fiifi Mills would be so traumatized that he may well decide to go into eternal exile.
*Kwame Okoampa-Ahoofe, Jr., Ph.D., teaches English and Journalism at Nassau Community College of the State University of New York, Garden City. He is the author of "Dr. J. B. Danquah: Architect of Modern Ghana" (iUniverse.com, 2005). E-mail: [email protected]