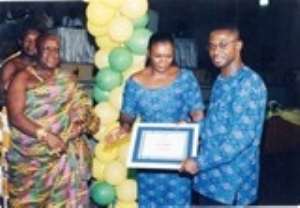 The management of the Trust Bank (TTB) has given out a total of US$12,400 (¢115.6m) in employee awards to deserving employees for their outstanding performance in the year 2006.
In all 11 employees won awards in four categories made up of the Non-Clerical,, Clerical, Officers, and Managers Categories, taking away prizes ranging between US$3,000.
Tow winners were adjudged in the Managers Category, three each in the rest of the categories with the Overall Best Worker, Michael Yaw Barimah coming from the Mangers Category.
He took away US$3,000 for being the most outstanding manager and as the overall best worker respectively.
The face of the awards started four years ago has improved in scope and value, for instance the first one held in 2004 against 2003 saw three staff of the bank recognized, taking away the cedi equivalent of US$2,000.
The Managing Director of TTB, Mr Isaac Owusu-Hemeng said the awards form part of management's effort at motivation staff to complement a performance based-culture being created at the bank to facilitate the process of human resource development.
"It was against this background that management introduced a sound performance appraisal and reward system in the year 2004 which for the first time took into account the responsibilities and job values of individual staff," he added.
The enhancement of the awards has been made possible by TTB's improving performance over the years. Its profit after tax increase by 23.7 percent of ¢56.05 billion last year. Return on equity and return on assets stood at 47.05 percent and 4.6 percent respectively with assets growing by 25.2 percent to ¢1.23 trillion.