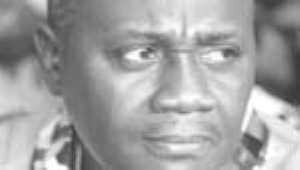 A former General Secretary of the ruling New Patriotic Party (NPP) and a presidential hopeful, Daniel Kwaku Botwe has stated that despite the internal grumblings, the party has a strong support base that can give it an overwhelming and unprecedented third term victory in 2008.
He noted it was through countrywide interaction with executives that party faithful would be prepared to fully support or die with a 'true' party person who shared their aspirations.
He said he understood why party members wanted somebody who would stand by them in whatever situation, adding, "Elections are not only won at the party level but the person the party would choose must be somebody who could easily be marketed to the general electorate.
"The party needs a true party man as well as a marketable candidate for the next general elections."
Mr Botwe, who was also a former Information Minister and recently resigned his position as the Director of Research of the party, made the disclosure at a press briefing in Koforidua after rounding off his nationwide tour to consult party members on his
intention to run for the flagbearership of the party.
"During my nationwide tour, I was very much encouraged by the massive support and encouragement from every constituency and by that assurance, I am going all out to win the presidential ticket for them."
He remarked his recent regional tour of the Eastern Region had been very refreshing and encouraging.
"My decision to run for the flagbearership is irreversible because I have the courage to carry out my convictions," he stressed, adding that he had gathered more confidence and a greater boost to win the elections "one touch".
He debunked rumours that he was stepping down and stressed he would definitely file for the flagbearership contest when nominations open in September as the aspirant with the biggest hope and brightest chance.
According to Mr Botwe, because of the limited time within which the party's presidential candidate would have to campaign, he would use the next round of his national tour to discuss his policy direction with party executives and how to position the party for more electoral victories.
He observed President Kufour had done very well for the country, but contended there was yet more to be done, as such the need for someone who did not only know party structures and organisations but had knowledge of governance as well.
He promised to take the party and the country to a new height from where President Kufuor would leave it, when given the nod.
Mr Botwe indicated further that as far as "real politics" was concerned, he was very much experienced having fought from his school days as a student leader and involved
himself deeply in the resurrection of traditions of Danquah-Busia.
"I was one of those who were meeting in Mr Krakue's house for the formation of the NPP even before the ban on politics was lifted in the early nineties.
"Many people know my contribution to the party and I believe when it comes to the selection of somebody who would best serve them, they would not hesitate to vote
for me."
Mr Botwe expressed his gratitude to all the constituency members who warmly received him and assured him of their avid support, adding "I am also grateful to all those who have been giving me the moral support in this presidential contest".