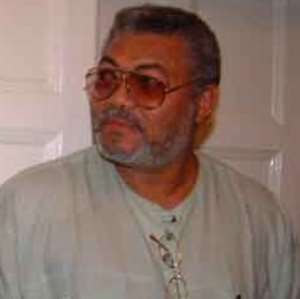 "Gen. Odartey Wellington Ignored The Oracle To His Own Peril"
The former NDC Health Minister, Hon Nuamah Donkor last Friday declared that the emergence of Flt Lt. Jerry John Rawlings on the political scene in 1979 was pre-ordained by God.
Making a brief contribution at the June 4th lectures, Hon. Nuamah Donkor cited a story related to him by Nana Paddy Acheampong, who was his deputy at the Health Ministry.
According to the story, months before the June 4 uprising, Nana Paddy Acheampong, who at the time was in the military, was given a message by a spiritualist based in Winneba to deliver to the then Army Commander, General Odartey Wellington.
Nana Paddy Acheampong was told to send God's admonition to the then Army Commander, that God had appointed a young military officer who was going to take the helm of power. The message delivered to General Wellington contained the chilling warning that unless the Army General performed some prescribed rituals, he was certainly going to die when the foreseen event occurred.
Hon Nuamah Donkor who is also a former Ashanti Regional Minister said that initially General Odartey Wellington refused to give any credence to the warning delivered to him. But after some days, obviously agitated by the information, he got Capt Paddy Acheampong to take him deep in the night to Winneba where the spiritualist lived.
The Seer, after the introduction, looked Gen Odartey Wellington in the face and declared that a young Military Officer had been ordained by God to take over the leadership of the nation. "This young officer who is a half caste, has been destined by God to raise the status of the nation," the Army General was told.
The seer once again told General Wellington to endeavor to perform some rituals that were critical if he was to avoid the death that was imminent upon the emergence of the young military officer on the scene.
Hon. Nuamah Donkor said that initially the General had acquiesced to the advice but on the way back from Winneba, he told Nana Paddy acheampong that he has decided not to go ahead with the ritual because he does not think that the Spiritualist was teling the truth.
"June 4, 1979 came as predicted by the spiritualist. A young half caste Officer became the leader and Gen Wellington as foretold did not only perish in combat but was the first member of the ruling junta to lose his life," Nuamah Donkor stated.