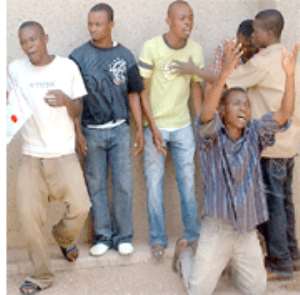 Five Nigerians have been arrested for their alleged involvement in internet fraud, popularly known as 419.
The suspects — Timothy Onoriode, 21, Alex Omauvaye, 28, Don Kefo, 29, Power Abugor, 21 and David Odjenima, 20 — were arrested at the Sarahbon Ventures, an Internet cafe at Teshie First Junction.
Assistant Commissioner of Police (ACP) K. K. Amoah, Head, Commercial Crime Unit of the Criminal Investigations Department (CID), told the Daily Graphic that a tip-off indicated that a group of Nigerian nationals had invaded an internet cafe and were using the facility to dupe unsuspecting foreigners of huge sums of money.
He said officials of the CID stormed the cafe on Wednesday at about 11 a.m. and caught one of the suspects scanning legal documents, including one with the seal of the High Court of Justice, to defraud a Canadian.
He said the suspects scanned letterheads of government organisations, signatures and legal documents, which appeared authentic enough to defraud unsuspecting foreigners who wanted to conduct businesses in Ghana.
ACP Amoah said the suspects had been remanded in custody and would be arraigned after investigations.
He, appealed to operators of internet cafes and the general public to report any incidents related to cyber fraud to the police in order that the image of the country would not be dented.
He said Ghana was becoming a haven for fraudulent foreigners and gave the assurance that the police would deal ruthlessly with any culprit.
Story by Hilda Owusu