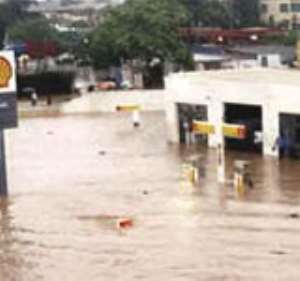 Four persons have so far been confirmed dead in Accra after they drowned in the flooding that followed Saturday's heavy downpour.
The Coordinator of the National Disaster Management Organisation, NADMO, George Isaac Amoh, who has been leading rescue missions through the night, told Joy News three bodies have so far been recovered.
Apart from a mother and her daughter who perished at Kwashie-Bu, a yet to be identified lady who was said to have attempted crossing the floods at Mallam lost her life while yet another lady drowned at New Gbawe.
Several communities affected by the rains remain flooded, and Isaac Amoh told Joy News all emergency rescue and relief units, including the military, police, Fire Service and NADMO were continuing with their efforts at saving lives.
He said until the floods recede, it was impossible to assess the extent of damage to property, but when proper assessment has been achieved, then appropriate relief would be measured out to the affected.
Mallam, Gbawe, New Gbawe, Awoshie, Santa Maria, Kwashieman, Kwashie-Bu, Sakaman and Sowutuom, all low-lying portions of the city and prone to floods, were affected.